WHY WOMEN STILL PATRONIZE TRADITIONAL BIRTH ATTENDANTS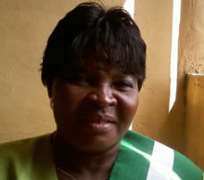 •Mrs. Raheem
Health experts say that the weaknesses of a Traditional Birth Attendant (TBA) lie in harmful traditional practices, which may have harmful effects for her clients; unhygienic practices and inexistence of the referral system. The strength they say lies in the fact that she is part of the cultural and social life of the immediate community in which she lives
In a recent chat with Daily Sun on efforts at harnessing the potentials in Traditional Birth Attendance for improved safe motherhood, the Director of Nursing Services in the Lagos State Ministry Of Health, Mrs. Olubumi A. Raheem stressed the need to regulate, upgrade and supervise through training, the practice of TBAs.
She was optimistic that with the training of TBAs, some cultural practices that militate against safe motherhood in Nigeria can be overcome. 'we can overcome them by training and retraining those people in the grass-root area. By training, I mean in the area of hygiene, neatness, what is to be done, when to do it and how important the health of the patient is. And if there's any complication; the patient must immediately be refered to the hospital'.
Raheem pointed out that the proximity of the TBAs continue to make them relevant in child delivery services. This she said has remained a big challenge to efforts at achieving remarkable reduction in child and maternal mortality. 'You find out that majority of the mothers in the communities use them. And they always have great confidence in them because they live in the same community. Sometimes, it may be the distance to get to the hospital in good time. But what we're saying is that, they should always patronize traditional birth attendants that have been trained in the orthodox way.
She proffers other reasons. 'Another problem is mothers' negative perception of healthcare workers. It is like ah, in hospitals, they won't give you required attention; they're carefree, they're careless, they're insolent, they're this, they're that. All those things I can assure you have gone with time and they should realize these healthcare givers are professionals. In recent times, we have done a lot in training them on ethical matters and how to adequately care for mothers. I can also bet that they no longer abuse their patients. All those perceptions that they have in their heads long time ago that nurses are unfriendly, particularly during childbirth have sort of remained indelible in the minds of these mothers.
To a patient, even people wearing blue uniforms are nurses, even the attendants are nurses. You discover that even when a patient directs her questions to a hospital attendant and she simply says, 'I'm coming', the patient takes it to mean that the nurse is uncaring. Everybody in the hospital is not a nurse. So, that negative perception on the attitude of nurses, which I said has gone with time, is one of the factors why mothers still patronize the traditional birth attendants. So we are assuring that we have trained and retrained our nurses on ethical matters because also we re mothers and we know what to do to take care of them.
Raheem, who also emphasized the need to educate TBA's on improved hygiene, explained that midwives who have been trained in child delivery in hospitals abound within the communities. 'If you must patronize a traditional birth attendant, you must make it a point of duty to visit a trained midwife or go to a hospital for pre and postnatal care. Again, the TBA's needed to be educated on the importance of hygiene. This is very, very important. Hygiene is important because infections are major, the cause of most deaths in expectant mothers. And they must refer at the early stage when they have difficulties. Where TBAs continue to assist at deliveries they must be trained to identify and make early referral of complicated obstetrics problems.
The Director also commented on the impact of the deplorable health facilities, particularly, power supply on child and maternal health. 'Lagos state government has done a lot in this regards and is still trying their best. Perhaps I can rate her above 90 percent. Then, on the part of federal government, I can only say that we need continuous improvement because the population grows by the minutes. The president is doing his best but the fact still remains that his best is not yet enough until we truly witness what can be described as a remarkable improvement in the health sector.
Regular power supply is a necessity to safe motherhood'.