Freaky Tale Of Girl Turning Into Snake Sends Warri Agog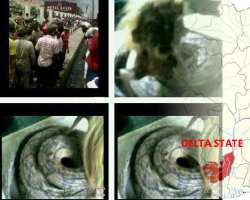 WARRI, February 16, (THEWILL) – The oil city of Warri in Delta State was Thursday enveloped by a blend of anxiety, disbelief and shock following tales that a girl turned in a huge snake at a popular hotel called Hotel Excel located off Refinery Road near the Warri/Sapele Road in Effurun, near Warri.

THEWILL has however not been able to independently confirm whether anything that freaky actually happened. The management of the hotel did not even help matters after it called off a press briefing it had earlier scheduled for 7.pm Thursday without offering any explanations. The owner of the hotel in a phone chat with THEWILL correspondent in Warri on Thursday said he had not finalized discussions with his lawyer hence he would not be able to address the media.

The alleged bizarre incident, which reportedly occurred in the early hours of Thursday, drew thousands of residents of the city to the hotel in order to ascertain the veracity of the news.

The siege on the hotel practically shut down the whole Warri/Effurun and adjourning areas, especially the Refinery Road, which is presently being reconstructed by the Delta State Government.

A version of the tale alleged that a man checked into the hotel with a female guest on Wednesday night but discovered that she had suddenly turned into a huge snake at about 4.am. The man reported ran out of the room screaming for help which prompted hotel personnel and security to respond only to find the creature and mobilized to deal with the development.

Several other versions were told but they ended with the same phrase – girl turning into a snake.

The strange creature – snake with a female head -- was reportedly moved out of the hotel premises to an unknown location before word got out about what had allegedly transpired.

Curious commercial motorcyclists and other members of the public besieged the hotel in their thousands to see for themselves but were stopped by a combined team of soldiers and policemen that also cordoned off the area and the hotel built on an expansive property.

As at press time there was no formal communication from the hotel or the police concerning the matter.

Earlier in the day, a hoax video clip posted on YouTube months ago was widely circulated in the social media as being the clip shot from the hotel showing a moving object that resembled a snake with a strange head.