Bad date stories to link people looking for love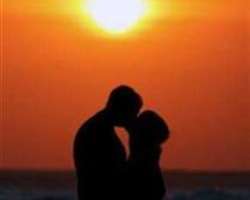 A couple kiss at sunset in this May 28, 2005 file photo. Have you ever had a date that has gone horribly wrong? A new Web site will allow people to share their bad experiences -- and possibly to fall in love. REUTERS/Darren Whiteside
Have you ever had a date that has gone horribly wrong? A new Web site will allow people to share their bad experiences -- and possibly to fall in love.
The site, set to launch next month, is the brainchild of Los Angeles-based author and dating veteran Jennifer Kelton.
"It's more lifestyle-based, it's less about 'I look sexy in jeans and flip-flops and I like to go to the movies on Tuesday nights,"' said Kelton.
"It's a combination of MySpace and Match.com."
With the explosive popularity and dominance of the other sites such as MySpace, which has 200 million users, and Facebook which has more than 41 million, Kelton faces stiff competition.
She hopes to lure members who are looking for the best of both worlds. BadOnlineDates.com is free to join and lets users set up a profile that includes characteristics such as eye color and religion.
But it also leaves room for members to share their nightmare date stories, as well as photo albums and blogs. Keyword matching finds similar themes in the members' profiles and bad date experiences to make a match.
Standard privacy and online safety links are also incorporated into the site.
Kelton, 41 and single, has drawn on her own experiences from decades of dating -- not always successfully. One of her worst dates inspired the title for her book "Don't Use My Sweater Like a Towel," after a man she was seeing did just that.
She has also been abandoned in a restaurant after the man she met online left before introducing himself because he saw her talking to other people.
"I got a really angry email from him a few days later telling me how rude I was," said Kelton.
Another uncomfortable encounter involved getting fleas from her date's infested couch.
Kelton believes matching people through stories about the cheap or bad-mannered date can be more effective than providing details such as blue eyes, swimsuit model and live in a mansion, which are not always true.
"I'm really passionate about creating a community for people who are out there in the dating world...by turning a whole negative experience into a positive one," she said.