DANGOTE FORTIFY PASTA WITH VITAMINS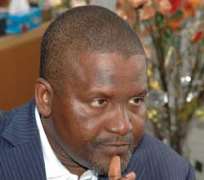 The Managing Director of Dangote Pasta Limited, Chief Oladehinde Brown, has said that Dangote spaghetti and macaroni contain rich vitamins and iron that are good for children's growth. He disclosed this recently at the premiere of the Television Commercial (TVC) before select audience monitored by Brands and Health journalists at the Silverbird Galleria, Victoria Island, Lagos.
He added that the nutrients are fortified with ten vitamins.He disclosed that Dangote plant has capacity to produce 20 million tones of pasta annually, but presently 10 million tones are being produced out of an average market share requirement of more than 18 million tones.
Chief Brown explained that in terms of pricing, Dangote Pasta is affordable when compared with competing brands in the market, adding that this is not to say that the product is inferior but a strategy the management has developed for market penetration.
He said that the company which is a subsidiary of Dangote Flour Mill Limited is exploring export market of the products to South Africa and other African countries, 'Dangote Pasta Plant is equipped with world-class machinery to manufacture premium quality spaghetti and macaroni in the food and beverage industry.The products meet stringent national and international standards, winning several industry award for excellence.
Brown said that the product has been endorsed by key opinion agencies locally and internationally such as National Foods and Drugs Administration Agency (NAFDAC), United Nations Children Emergency Fund (UNICEF) and Standard Organization of Nigeria (SON), explaining that pasta is a complete meal for healthy eating and can be eaten without adding another staple food such as rice. 'It comes in different shapes and sizes and can be eaten by everyone in the family as a complete meal', he said
According to him, ten vitamins and minerals are embedded in the product for easy absorption which has four variants namely: standard, slim, cuchini and gancillini, while the macaroni also with four variants contains cut, twist, elbow, shell, spiral, rock and alphabet. He said that the 45 seconds jingle would be a pan-African one billed to run as a way of passing the message to consumers adding that Dangote pasta is reputed to be the largest in Africa
Reviewing the commercial, the Managing Director of Hi-Concept Communication, the agency behind the production, Mr Owens Ibe, said that the production is set on family on picnic session who has a presenter with a riddle ,while the children unravel the riddle by chorusing Dangote pasta,thus providing answers to the riddle. It is song with musical background. The commercial is cut in English and Hausa languages.