FG TO CONFISCATE COLLAPSED BUILDING SITES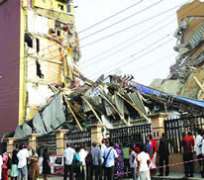 The Federal Government has said that, henceforth, the site of any collapsed building across the country will be confiscated, irrespective of who owns the piece of land. Registrar of the Council for the Regulation of Engineering in Nigeria (COREN), Felix Atume, disclosed this recently, during the inauguration of the Engineering Regulation Monitoring Inspectorate in Uyo, Akwa Ibom State.
Atume stated that this has become necessary, due to the incessant cases of collapsed building across the country, saying that the action would also act as a deterrent to other erring property developers.
Atume pointed out that the COREN tribunal was specifically set up to try any engineer found culpable in approving a shoddy job.
According to Atume, 'if at the end, it is discovered that an engineer is indicted, the council will not hesitate to de-register and bar such engineer from practising.'
Atume further affirmed that at the point of receiving approval, there must be an undertaking from the developer who will in turn, ensure that such an undertaking is signed by an engineer, which empowers him to also supervise the project. The COREN registrar, who argued that this would enable the engineer to ensure that what was designed was what was put on ground, also observed that there had been serious abuses in the implementation of the expatriate's quota, despite a directive by the Federal Executive Council during President Olusegun Obasanjo's tenure, that COREN should be consulted before foreign engineers were given jobs.
Atume expressed shock that in spite of the huge amount of money being spent on infrastructure, there was still unemployment among young engineers. In his remark, one of the newly inaugurated inspectors and the Special Adviser to the Akwa Ibom State Governor, Engineer Etido Inyang, re-stated that the state government's desire, is to always engage the engineers in all its developmental projects.
The Engineering Regulation and Monitoring Inspectorate is entrusted with the task of ensuring that engineering is practiced in Nigeria in accordance with the relevant codes of engineering practice.