RE: IN SOKOTO, DOES THE ODDS FAVOR ANPP?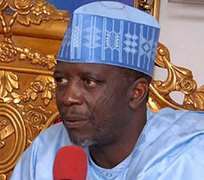 Ahead of Saturday's governorship election in Sokoto State, the seat of Caliphate, one Kande Ibrahim, a none existent being am sure, made fruitless effort to discredit Alhaji Aliyu Wamakko, former Governor of Sokoto State and his party, the People's Democratic Party (PDP) governorship candidate.
In his piece: "In Sokoto, the odds favor ANPP", Ibrahim tried to resurrect an obvious politically 'dead' politician, Alhaji Attahiru Bafarawa and a 'dead' party-the All Nigerian People's Party (ANPP), against a vibrant, dogged and people-oriented leader, Wamakko and of course the largest party in Africa, the PDP.
As it is wont of every drowned politician, like Bafarawa and ANPP, to always cry foul ahead of an obvious defeat; making baseless allegations and accusations just to curry public sympathy, Ibrahim was at his best in the piece. However, unknown to him, that in his attempt to paint Wamakko black, he ended up reminding the people how unworthy and inconsistent a Bafarawa is as a politician.
There is no gainsaying that Alhaji Wamakko has written his name in the sands of time in Sokoto with track records of his all round and enviable achievements in just one term as governor of the state compared with an eight years that was enveloped with corruption and all manner of sharp practices against the people; little wonder the Economic and Financial Crime Commission (EFCC) is dancing in court with Bafarawa.
Such wastages of the eight years of Bafarawa is what the good people of Sokoto cannot afford to tolerate again from a godfather and his lackey or yes-man. Since 2007, Sokoto people have concluded that never will a godfather decide or chose a governor for them, rather, the power was given to the people by Almighty Allah with the election of Governor Wamakko as governor; and that power still resides with the people and come next Saturday, the good people of Sokoto will use their power of ballot, to return Wamakko as governor to continue his excellent people-oriented programs. Sokoto people are wiser and will not need a godfather that will mortgage her future with a tele-guiding godson, like Alhaji Yushau Ahmed, as governor; but what we need in Sokoto is an Allah ordained governor, which we got in 2007 and will get next week, INSHALLAH.
Let me agree with Alhaji Yushau Ahmed, the ANPP candidate, who said in his interview with ThisDay, February 8th, 2012, that," Sokoto needs a proactive governor." He is very correct, but that proactive governor cannot be him, because Sokoto had had a proactive governor in Alhaji Wamakko, already. From the mood and feelers in Sokoto, it is obvious that the good and law abiding people of Sokoto are at home with the PDP and Wamakko as their new governor.
What makes Ibrahim reason that "the Yushau campaign team powered by Bafarawa and other important stakeholders in the state will surely carry the day." Haba-Bafarawa? Carry the day? Kai-in- Sokoto? After he wandered like a political-prostitute from All Nigeria Peoples Party (ANPP), to Democratic People's Party (DPP), and Action Congress of Nigeria (ACN) and back to a demised ANPP? Well, even Nigerians (outside Sokoto State) know that Bafarawa has nothing meaningful to contribute democratically, if there is anything left of him, ACN would not have thrown him out at the 2011 presidential primaries.
Talking about power of incumbency, Wamakko does not need that to get re-elected. In 2007 when he was first elected governor, as an opposition candidate, Bafarawa and his minions were enjoying the power of incumbency but they didn't do anything in the state, the people were fed up with them, and didn't waste time in throwing them out. Indeed, the chips are down and the drowned chicken has come home to roost; and we shall see him roost.
Any thinking that the people of Sokoto will choose ANPP and its candidate, Yushau, is not just an illusion, but an attempt to cover tracks of corruption cases before the EFCC. Sokoto had no 'glorious years' of any kind under Bafarawa, if it did, how come things were so bad, until Wamakko came to rescue us. Perhaps, the 'glorious years' referred to here, are the cases before the EFCC.
It is only those that have not been to Sokoto State that will not understand the impact of Wamakko's regime. Wamakko has done more and better roads, and created environments for business investments. He has given our people hope and we now believe in what a people-oriented government can do. In terms of infrastructural development, what Bafarawa couldn't do in eight years, Wamakko has done in just four years.
We cannot waste time talking about Yushau because he is no match to Wamakko. In fact, the day he was declared candidates for the election, was the day everybody in Sokoto concluded that the election is not a contest for Wamakko.
Make no mistake about it; there is nothing ANPP can do in Sokoto because the party is already struggling in an internal crisis occasioned by Bafarawa's return. I am from Sokoto, and live here; I know what is happening. Right now, some chieftain's of ANPP are talking to the PDP because they are not at home with the destructive nature of 'Bafarawaism'; a destructive-catasrophic-style he has introduces in every party he goes to. If in doubt, ask Gen. Buhari (ANPP), Gen. Useni (DPP), and Bola Tinubu (ACN).
From what is on ground and the feelings of the people, if ANPP is in the race, it is clearly not known to the people because Wamakko has dominated; and he is in control of the state through projects he executed as governor; all Local Government Chairmen and counselors, all State house of assembly members, all Federal house of Representatives, and Senator's are with Wamakko; and PDP is the party on the lips of every voter here.
Therefore, in Sokoto, the odds of uncoordinated and incoherent ANPP and other parties favour PDP.
By Ahmed Abdulkadri

Disclaimer:

"The views/contents expressed in this article are the sole responsibility of

thewillnigeria.com

and do not necessarily reflect those of The Nigerian Voice. The Nigerian Voice will not be responsible or liable for any inaccurate or incorrect statements contained in this article."
Articles by thewillnigeria.com