House Subsidy Probe Ends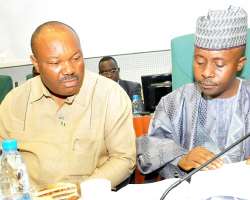 ABUJA, February 09, (THEWILL) - After three weeks of an investigative hearing and sordid revelations, the House of Representatives public hearings on subsidy management ended Thursday in Abuja.
Chairman of the ad hoc committee, Hon Farouk Lawan who announced the closure after today's session said revelations from the hearings were 'shocking'.
He however assured that the committee will be thorough in its report and recommendations.
Lawan said his committee is -"praying and hoping" the recommendations will be applied by the State.
"Some of the reports will need the executive to act, some will require the legislature to do some work and even the judiciary may be required to work on some," he said. "We hope and pray the relevant agencies of government implement some of these reports."
The chairman said the report is expected in weeks since a key element of its recommendations, should cover petrol subsidy appropriation in the 2012 budget expected to be passed by the national assembly before the end of February.
While assuring that the "shocking and revealing" details exposed at the hearings will not be swept under the carpet, Lawan said the exercise has no "intention to run down anyone."