MACKENZIE CROOK UP FOR BOOK AWARD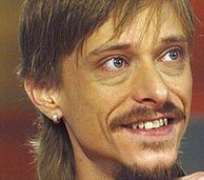 Mackenzie Crook wrote and illustrated The Windvale Sprites
British actor Mackenzie Crook, best known for playing Gareth in The Office, has been shortlisted for this year's Waterstones Children's Book Prize.
The 40-year-old received the nomination for his debut novel, The Windvale Sprites, which he also illustrated.
Crook was nominated in the five to 12-year-old category. The two other prizes are for picture and teen books.
Each winner will receive £2,000 on 28 March, with an overall winner getting a further £3,000.
Previous winners have also seen a significant boost in sales of their books.
'Emerging talent'
Jonny Duddle, the concept artist for Aardman film The Pirates!, which is out this March, has been shortlisted in the picture category.
His book, The Pirates Next Door, will compete against No! by Marta Altes; I Don't Want To Be A Pea! by Ann Bonwill and Simon Rickerty; Chris Haughton's A Bit Lost; I Want My Hat Back by Jon Klassen; and Nadia Shireen's Good Little Wolf.
Phil Earle's gritty novel Being Billy, about children in care, was shortlisted in the teen category.
Annabel Pitcher's My Sister Lives on the Mantelpiece; Divergent by Veronica Roth; Jenny Downham's You Against Me; Amy and Roger's Epic Detour by Morgan Matson; and Between Shades of Gray by Ruta Sepetys completed the list.
Crook's book will compete against Janet Foxley's Muncle Trogg; Sky Hawk by Gill; The Brilliant World of Tom Gates by L Pichon; Alan Silberberg's Milo and the Restart Button; and Claude in the City by Alex T Smith.
Now in its eighth year, the prize was created to "reward and champion new and emerging talent in children's writing".
The winners are determined by booksellers across the country.
It is open to authors writing for children from seven to 13 and who have written no more than two fiction titles.
Sita Brahmachari was presented with the top prize last year for her debut novel Artichoke Hearts.