NO MORE EURO-TRIALS FOR EAGLES – KESHI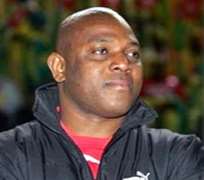 Keshi
A subtle ban was yesterday placed on Super Eagles who have been shuttling Europe for trials with all manner of club sides by team boss, Stephen Keshi, who observed that the trials were disrupting the building of a strong home-based national team.
Keshi, addressing the players at lunch time, said he has been frustrated by players strolling in and out of camp all in the name of trials in Europe and other parts of the world. He, therefore, asked those who have trials to make between now and 60 days time to indicate and leave camp, so that he can invite replacements for them.
'I have a programme to build a good team at home here that can compete with any national team in the world, but I'm been distracted every time players walk up to me to ask for permission to travel. Now, that has to stop. Those who want to travel can come and I will pray for them, it's no quarrel but we are at a crucial bend now and I can no longer tolerate it', he said.
Keshi further told the players that apart from the fact that Europe is too cold at the moment for any meaningful trials, he feels insulted that Nigerian national team players go on trials with clubs in unknown leagues in the world and mostly return without success and still hope to be recalled to the national team. 'If we train players here and they make the team, such players don't need trials in Europe to be engaged by top clubs, so why are we in a hurry.'
He told the players the story of Ghanaian legend, Abedi Pele, who went on trials in France and was unsuccessful, but was trailed back to Ghana by another club that saw him play in a trial game. The rest, he said is history. 'If you are good enough, clubs in Europe will come down here to sign you, instead of you exposing yourself to unnecessary health risk over there. I can beat my chest to say I know what the standards are in Europe because I have played there and if I tell any manager that a particular player is good, such a player will be signed on because they know my pedigree.
Eagles Media Officer, Ben Alaiya, recalls that in the last camping session, players such as Chibuzor Okonkwo, Jude Aneke, Obinna Nwachukwu and Kalu Uche all went for unsuccessful trials in Europe .