BH Leader Using Brutality, Fear, Killings To keep Weary Members Loyal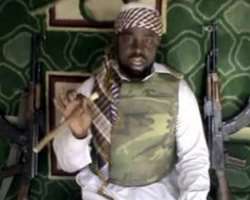 BOKO HARAM LEADER IMAM ABUBAKAR SHEKAU
*** Former Mauritania President Taya Linked Again With Sect

SAN FRANCISCO, February 06, (THEWILL) – Revelations from Abul Qada, the detained spokesman of the Boko Haram has revealed that leader of the terrorist group employs various deadly tactics including murdering weary sect members in the presence of their families as a means of ensuring that they remain loyal to him and execute his orders to continue attacks.

Abul qada, 42, who holds an Ordinary Diploma in Social Works from a polytechnic in Maiduguri, the headquarters of the sect, has been telling his SSS interrogators that members of the sect are tired of the fighting but are too scared to quit for fear of being 'slaughtered' at the orders of Imam Shekau.

Abu Qaqa, who over the years has gone by the various names -- Mohammed Shuaib, Mohammed Bello, Abu Tiamiya, and Abdulrahman Abdullahi had been imprisoned in Bauchi but was set free when the Boko Haram raided the Bauchi Prisons and set its members free in 2010.

One security source told THEWILL the arrest of qada is a big plus for security agencies as it has helped unmask a couple of promoters of the sect.

Recall that THEWILL had previously reported that the former President and Prime Minister of Mauritania, a 70-year-old Sunni Muslim, Maaouya Sidi Ahmed Ould Taya, presently living in Doha, Qatar and elements of the ruling family of Qatar are some of the early backers of the Boko Haram.

Intelligence sources told THEWILL that qada had also confirmed Taya's link with the group.

THEWILL gathered that BH was first formed as Taliban in 2002. Those behind it initially started it as a money making venture. They recruited and sent youths as mercenaries to Egypt and Sudan as soldiers and made moneys in the process. Many of them were first instructed in Mauritania under the Presidency of President Maaouya Sidi Ahmed Ould Taya.

However in 2005, after General Mohamed Ould Abdul Aziz ousted Taya from power having ruled for 21 years, the deposed leader secretly sought refuge in Kano for some time to regroup and strategise. While in Kano he met late Sheikh Jafar Mahmoud Adam, the original owner of the BH, some religious leaders, politicians and traditional rulers. Taya desperately wanted to reclaim power in Mauritania and sought the support of all those he had met with.

After several meetings in Kano with Taya providing lots of funds, THEWILL was told that the leaders he met began mobilizing youths who would be used for the insurgency to recapture Mauritania or make it ungovernable for its present leader, General Mohamed Ould Abdul Aziz. Taya was eventually offered asylum in Doha leaving behind a well grounded and rooted movement in the north.

Boko Haram's agenda has since changed since President Goodluck Ebele Jonathan won an election that many local and foreign observers believe is Nigeria's free and fairest Presidential election.

Intelligence sources believe that powerful politicians, traditional rulers and former top brass in the military have supported the sect to destabilize the present government and probably plunge Nigeria into a civil war.

Nigerian security agencies have placed a couple of persons on its watch list as operatives intensify the hunt for Shekau, who is believed to be hiding in an undisclosed location in either Borno or Yobe State.