LEADERSHIP FAILURE: NIGERIANS ARE WALKING PRISONERS IN AUSTRIA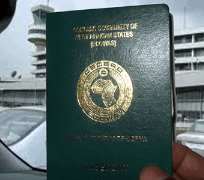 Mr President Sir, members of the honourable national Assembly and House of Reps, the foreign Affairs Minister and fellow Nigerians, when one extends hands of friendship it is natural that one has exposed oneself to danger. Today not only that I have extended those hands of friendship but I have equally once more exposed my emotions and love to public ridicule and attack because of my affection for Nigeria.
I am pained to inform you all that some Nigerians in Austria can better be described as walking prisoners painfully confined within the territory of Austria as a result of leadership failure. In solidarity, I write to draw your attention to the plights of these fellow compatriots who are pitifully in sorrow and agony.
I am astonished to see the citizens of the so-called giant of Africa in a state of mockery perhaps because of the recklessness of one individual just for the reason of what will go into his/her pocket. It saddens my heart to see most times policies that are orchestrated by parochial interests of few cabals in Nigerian governments who abuse the trust constitutionally vested on them. How else can one explain the scarcity of international passports at the Nigerian embassy in Vienna, Austria? Some Nigerians under different categories that have applied for ECOWAS international passports for the past10 months now are still miserably facing nightmares of uncertainty because the future of their applications still looks bleak.
Because of unavailability of international passports so many Nigerians that had wished to travel home for Christmas and whose passports had expired were really stranded in Vienna, Austria. Because of unavailability of international passport Nigerian business men/women whose passports pages are fully used cannot travel out of Austria to perform their legitimate duties in order to provide for their families. Because of unavailability of international passports some Nigerian asylum seekers in Austria cannot legitimatize their stay since it is only through marriage that such could be possible. This deficiency of the government seems to have destroyed the dreams and aspirations of asylum seekers in most European countries to live a normal life without being afraid of security guards and patrol attendants that are in uniform looking like police officers. Because of unavailability of international passports, what will be the fate of some Nigerians that might misplace their international passports or lose it to hoodlums while on visit in Austria?
During my chat with some of the affected people who contacted me, they all complained about the disappointment and the way the embassy had arrogantly handled the situation by not getting them updated at least through their e-mail addresses. They said even when they had tried to call the embassy for information that they had been discouraged with the manner of responses from the workers.
One of the furious affected persons Mr Julius Onyedikachi lamented about his frustration and the rude conduct of the embassy workers who had severally without any iota of respect warned him to stop bothering them because he was not the only one involved and he had not paid the embassy any money. According to him, he had applied for the passport since December 2010, and for someone who applied for a passport for over a year now to get this kind of caution from his embassy is not only shocking but embarrassing and annoying. "Because the passport has got a very significant role to play in my life now" he said, "I have approached the embassy in Vienna for authorization documents that can enable me obtain the passport in any of the Nigerian embassies in Europe where they have the producing machine and again the embassy has refused unless I pay € 25." Please, Nigerians need to be treated with respect and dignity. To know how infuriated Julius Onyedikachi is, I have provided the contact of this gentle young man for your inquiries; [email protected], +436509820675.
Nigeria as the natural leader of ECOWAS countries was the initiator and the giant that pushed for the use of ECOWAS passports. Does it mean that Nigeria was not ready when this decision was reached? Does it mean that other ECOWAS members outsmarted her for whatever reason in the introduction of the ECOWAS passports? Why did Nigeria phase out her Nigerian passport if she was not ready? Who took this decision on behalf of Nigeria? The officer/s that took this decision did not take the huge number of Nigerians living abroad and its implications in cognize before this step and as such is/are not capable to be in such position/s as the result has shown that the verdict was shallow. Perhaps the only interest considered in this decision as it is now could only be what should come out from the contract of producing the passports and not how best the interest of Nigerians may well be served.
So many Nigerians are equally stranded in some other European countries because of the short supply of the machines that produce the passports. According to information available, as populated as Nigeria is the ECOWAS producing machines for her citizens can only be found in 5 countries in Europe. What a shame! The story is equally an embarrassment in Australia according to a very reliable source. And it is heart aching to know that other smaller ECOWAS countries are serving their citizens in this respect satisfactorily.
Is Nigeria cursed? What is actually wrong with decision takers in Nigeria? Or is the Nigerian government not having enough money to buy the passport producing machines? But the wasteful and corrupt Nigerian politicians both state and federal level have enough billions to waste in the guise of security votes when in reality they are not securing any Nigerian except themselves, families, cronies and their loots. Consequently, they are actually looting to financially empower themselves in order to hire criminals to intimidate and kill ordinary Nigerians like me in an apparent move to suppress the wish of the people in their next elections and targets.
Those Nigerian politicians who have got no value to human lives are cowards and they should not forget what William Shakespeare said of Macbeth after he had murdered his friend Malcolm, "All the oceans of the world cannot wash blood off the hands of Macbeth." Your conscience will continue to torture you as a killer just as your death will be a very slow and painful one.
The Nigerian immigration department knows averagely how many passports they had produced for Nigerians in diaspora in one month and how many machines that had produced that before they pushed for the implementation of the ECOWAS passports. Why did they not make it a point of duty to replace all the Nigerian old producing machines at every location with the ECOWAS machines? What a myopic and disgruntled decision! The immigration officers should explain to Nigerians whose interest they represented here.
In view of the questionable and narrow-minded decisions of most Nigerian leaders -like the implementation of ECOWAS passports when they know that they are not ready, it has become imperative that Nigerian rulers (leaders) at all levels should be made to pass through certain levels of examination before they can be cleared for any elective or political appointment.
Mr. President Sir, Nigerians all over the world are pleading with you to give this issue the urgency it deserves by sending rescue teams in the same manner the Foreign Affairs Ministry under Chief Ojo Madueke arrogantly did in 2010. For the then secret deals of the ruling cabals not to be exposed in Europe the good interests of the masses they were elected or appointed to protect were sold without conscience as sacrifice for their own protections. They did this by incredibly sending three wise men from the Ministry of Foreign Affairs to Vienna, Austria under the pressure command of the Austrian authority who did the works of the Nigerian Ambassador by disgracefully and shamefully signing about 2000 deportation papers of Nigerians against the wish of the man saddled with such responsibilities Ambassador Jerry Ugokwe who did not see any justification for such outrageous repatriations.
May God bless Nigeria.
Uzoma Ahamefule, a patriotic concerned citizen writes from Vienna, Austria
[email protected] +436604659620.

Disclaimer:

"The views/contents expressed in this article are the sole responsibility of

thewillnigeria.com

and do not necessarily reflect those of The Nigerian Voice. The Nigerian Voice will not be responsible or liable for any inaccurate or incorrect statements contained in this article."
Articles by thewillnigeria.com