ACN CALLS FOR FRESH GUBER POLL IN KOGI, SLAMS INEC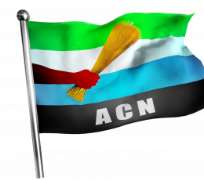 The Action Congress of Nigeria (ACN) has called for fresh governorship election in Kogi State, saying the December election is null and void, having contravened the provision of Section 178(2) of the 1999 Constitution (as amended), based on the recent Supreme Court ruling on tenure elongation.
In a statement issued in Lagos yesterday by its national Publicity Secretary, Alhaji Lai Mohammed, the party said neither the Peoples Democratic Party (PDP) nor Capt. Idris Wada, its candidate in that election, could therefore take any benefit or right from the election.
The party said the Supreme Court has now held that the tenure of the incumbent governor of Kogi expired in May 2011 and that the seat of governor had become vacant, even though no election was conducted before the expiration of that tenure contrary to Section 178(2) of the Constitution.
It blamed INEC partly for the confusion that has now occurred in the state, in which two persons are claiming the governorship seat in the wake of the Supreme Court ruling. ''Though INEC issued a notice of election within the prescribed time sometime in January 2011, the election was conducted on December 3rd 2011, a period of six months after the expiration of the term of the last holder of the office.
''The election, however, cannot be deemed valid and constitutional, since an act or event will be valid and constitutional if it is done in accordance with the laid down procedure or law. That's why the Supreme Court succinctly held, per Tobi J.S.C., in the case of the removal of Senator Ladoja as Governor of Oyo State by the state House of Assembly, thus: 'It is good law that where the Constitution or a statute provides for a pre-condition to the attainment of a particular situation, the pre-condition must be fulfilled or satisfied before the particular situation will be said to have been attained,' ACN said.
The party said if INEC had lived up to its responsibility, it would not have proceeded to organize December's election, especially as it had appealed the case on tenure elongation to the Supreme Court, following rulings by a Federal High Court and the Court of Appeal in favour of the then Governor Abubakar Idris. INEC should have shown more diligence in pursuing the appeal at the apex court, instead of rushing to commit what has now turned out to be an illegality.
It said, the options opened to the electoral body now is to go ahead and carry out a fresh election, to be contested only by the candidates whose names were submitted by their various political parties in January 2011, when INEC issued the original notice of election.