2012 Budget: Tambuwal Gives Committees Ultimatum To Submit Reports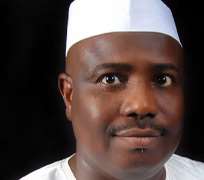 ABUJA, January 31, (THEWILL) - Speaker of the House of Representatives, Hon. Aminu Waziri Tambuwal Tuesday issued a 7-day ultimatum to all standing committees of the House to submit their reports on the 2012 budget or face sanctions.
Recall that the House had on January 19, 2012 suspended plenary session to allow standing committees carry out budget defence with Ministries, Departments and Agencies (MDA's).
Tambuwal who gave the directive at the resumed plenary session today warned that, any committee that failed to submit its report risked the right to defend the budget to the Appropriation committee.
He said that the House cannot afford to keep Nigerians waiting without passing the budget.
"We cannot keep the nation waiting, we have given our commitments and it is our responsibility to leave up to that commitment,'' he said.
Earlier, Hon. John Enoh (PDP-Cross River), the Chairman, House committee on Appropriation had informed the House that the standing committees had defaulted in the submission of their reports.
However, he said that reports were being expected from the committees before the end of the day.
In a related development, the House has urged the federal government stop further concentration of its parastatals and Agencies in state capitals which already have such offices.
It also urged the Federal Road Maintenance Agency (FERMA) and the federal ministry of works to open federal roads to facilitate citing of new parastatals within the states.
This resolution was sequel to a motion moved by Hon. Samuel Williams (ACN-Ogun) which was unanimously adopted without debate.
Leading the debate, Williams noted that most of the federal government parastatals were not located evenly at the six geo-political zones.
He said that the over-concentration of these parastatals in places like Kano, Lagos, Port Harcourt and Lagos had led to pollution, high cost of living and crime.
The motion was referred to the committee on Federal Character for further legislative inputs.