Toshiba Cuts Outlook After Q3 Profit Tumbles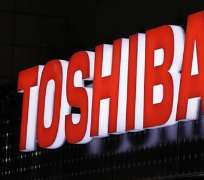 Toshiba Corp, Japan's biggest chip maker, booked a 72 percent fall in quarterly operating profit on Tuesday and slashed its annual profit forecast as a strong yen and the euro-zone debt crisis hit profits.
The industrial electronics conglomerate also cut its annual television sales forecast amid slumping domestic sales in a possible sign that bigger Japanese TV makers may be in for a steep fall in profits from their TV business when they report results over the coming days.
Toshiba, the world's No.2 maker of flash memory chips behind Samsung Electronics and a supplier to Apple, cut its annual operating profit forecast by a third to 200 billion yen ($2.62 billion). That was below the 275 billion yen consensus estimate of 23 analysts polled by ThomsonReuters I/B/E/S.
Weak domestic TV sales, which have also plagued Japanese makers such as Sony Corp and Panasonic Corp, led Toshiba to trim its TV sales forecast for the year ending March 31 to 15 million TVs from 18 million.
"Toshiba has managed its TV segment comparatively well, but now even it's facing the same fate as its competitors," said Yoshiharu Izumi, a senior analyst at JP Morgan in Tokyo.
Quarterly sales in its digital products division, which includes LCD TVs, fell by a quarter, in part as the end of the transition to terrestrial digital broadcasting and expiration of a stimulus program for energy-efficient goods led to a big fall in TV sales in Japan.
Toshiba posted an operating profit of 10.5 billion yen for October-December, significantly lower than an average estimate for a 58.8 billion yen profit in a poll of four analysts by Thomson Reuters I/B/E/S.for the year to March.
Flooding in Thailand also weighed on quarterly earnings after it forced the maker of a wide range of electronic goods, from rice cookers to nuclear reactors, to halt some of its manufacturing lines.
On a net basis, Toshiba fell to a 10.6 billion yen loss in the quarter, from a 12.37 billion yen net profit a year earlier.
CHIPS
Quarterly sales in Toshiba's electronics devices business, which includes semiconductors, sank 10 percent.
Revenues fell due to lower prices for memory chips and less demand for System LSI and discrete chips, amid a falling market for personal computers and TVs in Europe and the United States.
Last week, flash memory supplier SanDisk warned that weaker demand from some mobile device manufacturers would hurt its revenue in the first half of this year.
Shares in Toshiba, which competes with South Korea's Samsung Electronics and Hynix Semiconductor Inc in semiconductors and with GE and Areva in nuclear reactors, have fallen by one-third over the past 12 months, compared with a 14 percent drop in Tokyo's benchmark Nikkei average.
Tuesday's earnings results came after the market closed. Shares of Toshiba settled 1.8 percent lower, versus a 0.1 percent gain in the Nikkei, pressured by a report in the Nikkei business daily that the company would cut its outlook.
Rival consumer electronics maker Sony will announce results on Thursday, with Panasonic to do so on Friday.
($1 = 76.3900 Japanese yen)
REUTERS