IMOKE: CAPITALIST OR WELFARIST?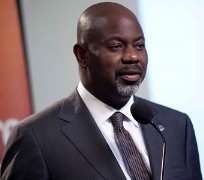 Some time last year, in one of the remotest villages in Bakassi Local Government Area of Cross River State, some villagers gathered in awe of the convoy of vehicles that stopped over at the entrance leading to the Palace of the Village Head of the Community, whom I later learnt was an uncle of, or a relation of a onetime Deputy Speaker of the Cross River State House of Assembly, Chief Dominic Aqua Edem. Before that time, they had not been opportuned to see vehicles in their numbers. The reason? There was no access road.
The Village in question is called Ifiang Nsung and the Village Head whose name I cannot recall now, had mobilized his subjects, ostensibly to welcome Journalists who were on the trail of Senator Liyel Imoke's rural Development projects and to savour the convoy of cars.
While fielding questions from Journalists from over thirty media organizations (both the print and the electronic) there was a rhetorical chorus of voices thus:, how can we forget this man? How can we,? Retorted another bystander.
The man in question, whom the Villagers in Ifiang Nsung and Ifiang Ayong asked rhetorically ''how can we forget him'' was no other person than Senator Liyel Imoke, who is still relishing his sweet victory from the recently concluded People's Democratic Party (PDP) primaries. His near one hundred percent trashing of his political opponent who is the Nigerian Ambassador to Mali and one time Chairman of the Party in the State, Ambassador Sonni Abang is how ever not a matter for discussion in today's discourse, but there seems to be some resonance of the rhetorical questions that the people of Ifiang Nsung and Ifiang Nyong asked several months ago, how can we forget this man in the just concluded PDP Primaries. Like the brand specialist will say, the product speaks for itself and so the electorate, mainly of the PDP extraction for now, like the Ifiang Usung people said, how can we forget this man, whose campaign slogan during his first dispensation was, ''Monkey work, Monkey chop''. The literary referent of Monkey work, Monkey chop'' is not about that wild animal that shares some physiological attributes with man, rather the slogan is merely a portrayal of his desire to make life meaningful and comfortable to everybody, irrespective of whether you are a 'Monkey' or a 'Baboon".
The paradigmic connection between the sayings of the rural folks and the city elites who are given to appreciating anything good and noble is reverberating in all the nooks and crannies of the State. How can we forget Imoke. Is it the city dwellers in Calabar, Ugep, Ikom, Ogoja and Obudu that will forget him for his Urban renewal programmes or the rural dwellers who can now boast of at least two standard asphalted roads in each of their domains, with more coming on stream through the State government's partnership with the African Development Bank (ADB).
A graphic illustration of why people may not forget Imoke long after his reign can be gleaned from the pathetic case of Iyamitet people who had literally become slaves in their own homes due to lack of access roads.
Before the Governor's construction of the 14.2 kilometers of Iyamoyong-Iyamitet road, the people of Iyamitet, used to spend long hours, and an average of between six to eight hundred naira to transport themselves through Motor Bikes which were the only means of transportation that could meander through the slippery muddy 'path' in order to take a basin of garri to Iyamoyong market, along the Ikom-Calabar high way, and only to sell that basin of garri for One Thousand Naira.
For the other rural dwellers with similar stories to Ifiang Nsung and Iyamitet, the story is gradually changing because the Rural Development Agency which is anchoring the construction of rural feeder roads, is poised to complete with asphalt surfaces, not les than 506.62 kilometers of rural feeder roads in 16 (sixteen) Local Government Areas, while the Cross River Rural Access and Mobility project (CR-RAMP), with counterpart funding from the African Development Bank (ADB) is currently constructing twenty-nine (29) rural roads, spanning 474 kilometers across seventeen Local Government Areas. Under Senator Imoke, 167 communities have benefitted from 117 electrification projects, cutting across the three Senatorial Districts of the State.
Under the Urban renewal Programme, apart from Erosion control, Imoke has constructed 250 kilometers of urban roads in the five Urban Centres of Calabar, Ugep, Ikom, Ogoja and Obudu. While 165 kilometers of the 250 have been completed, 85 (eighty-five) others are on-going.
In summary, Calabar Municipality has nineteen roads (19) completed, while eighteen (18) are at different levels of completion. In Calabar South, Sixteen (16) roads have been completed, while thirty-six (36) are on-going.
In the education sector, 60 (sixty) Secondary Schools, spread across the 18 (eighteen) Local Government Areas have undergone comprehensive renovation, under the phase 1. The comprehensive renovation entails a provision of computer science laboratories, separate laboratories for physics, chemistry, biology, a standard library, and an Assembly Hall, all fitted with modern toilet facilities, boreholes and solar energy panels in each of the schools.
His people centred health programme has designated three General Hospitals of the 18 General Hospitals in the State and equipped as centres of excellence where certain referral cases can be handled. Besides, he has renovated and equipped three schools of Nursing and three schools of Midwifery, located in Calabar, Itigidi, Ogoja and Obudu. One hundred and ninety-six (196) health centres, one in each of the 196 political wards have also been renovated and equipped for the smooth implementation of his health care programme for pregnant women and children from zero to five years.
Senator Imoke, indeed believes that creating wealth for his people (Cross Riverians and residents of other States alike) requires careful planning and implementation of policies, projects and programmes. Besides, one of the indices of measuring a great and a visionary leader, is his ability to look or project ahead, in anticipation of population growth, economic explosion with all the attendant expectations, like increase in vehicular traffic, street congestion, influx of the business people and investors as well as the re-emergence of the middle class.
This probably explains his putting in place structures like the Calabar International Convention Centre with hotels and recreational facilities, a 6 kilometer Airport bye-pass road, a 3 kilometre new TINAPA road, the Calabar International Market, the Calabar energy city project, the Golf Estate and a phased construction of 610 housing Units for Civil Servants and public Servants, with the initial 200 units, almost ready for occupation.
Nigeria is a capitalist nation and by implication, every leader elected or otherwise, is presumably a capitalist.
For Senator Liyel Imoke, this garb of capitalism does not seem to fit him even though he is operating within a system that promotes capitalism and bourgeois. He may be described as a welfarist-bourgeosie, ostensibly, for his passion for the poor, the dregs of the society and his struggle to bring about the re-emergence of the middle class, particularly among the civil servants. To an objective assessor, the fact that at least fifteen households in each of the 196 political wards who are adjudged to be chronically poor are being leveraged monthly through the Conditional Cash Transfer (CCT) programme, coupled with many other welfare packages, is enough to ascribe to him the toga of a welfarist-bourgeosie.
For want of time and space, we may go on and on, but the summary of this piece centres on the sayings of 99% of Cross Riverians in both the rural areas and the cities who keep asking rhetorically, ''How can we forget this Man Imoke''. Can he be forgotten? Only time will tell, but a combination of these attributes make people to say he is a welfarist and not a capitalist, after all, he is not known to be amassing stupendous wealth at the expense of the people he governs.
Written by Denis Utang.

Disclaimer:

"The views/contents expressed in this article are the sole responsibility of

thewillnigeria.com

and do not necessarily reflect those of The Nigerian Voice. The Nigerian Voice will not be responsible or liable for any inaccurate or incorrect statements contained in this article."
Articles by thewillnigeria.com