ANOTHER ACTOR DIES, AS MR IBU LOSES SON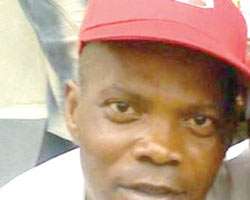 Barely a week after Nollywood lost one of its veteran actors, David Ihezie to the pangs of  death, the industry  has recorded yet another tragedy.
Lekan Lekinson, a veteran Yoruba actor  passed on, last Wednesday, January 25, in Osun state. He died after a prolonged battle with diabetes.
Late Lekan
Only this month alone, the industry has lost three veteran actors to the pangs of death. David Ihezie, who died last Thursday in Enugu and Isaac Onuzu an Abia State based actor who also died early in the month.
Also,  last Monday night, comedian-actor, John Okafor a.k.a Mr Ibu lost his two year-old son to death.
Confirming his son's death, Mr. Ibu said, 'yes, it's true. My son died last night(Monday). He has been sick for four days now. He is only two years plus.
It is a long story and I don't know where to start.' The actor  is said to have blamed the death of his son on the medical team, at  LUTH, where the poor boy was on admission.'