I'm fulfilled playing sax----Bukky Sax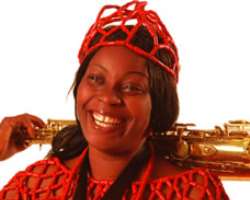 The name, Bukola Olorunshola Osamwonyi may not strike a chord to many people but for those in the music and entertainment industry, it is fast becoming a household name. Bukola, from Ekiti has excelled in a male dominated world. She sleeps, dreams and wakes up playing the Sax. Little wonder, she earned the nickname, Bukky Sax.
She is a saxophonist and all her five siblings play one instruments or the other.
Nothing could best describe her parent's initial reaction to her choice of career rather than the saying that "the stone which the builders rejected has become the cornerstone". Her family had initially thought just playing saxophone was the worst mistake she ever made.
Today, having gone to places with just playing saxophone, her parents now sing a new song and pride themselves in her achievement
As a master in the game and a female instrumentalist, Bukola told us that playing the saxophone can adversely affect a pregnant woman. She says that constant play could cause severe and constant dizziness for the pregnant woman and might leave the unborn child with something very bad.
In a chat with us, she revealed how she was able to scale through the huddles when she was pregnant with her child.
How it started
It started professionally when I was in school at The Polytechnic, Ibadan. I was supposed to attend the University of Ibadan because my parents wanted me to study Economics. But while I was still processing my admission, a friend told me that The Polytechnic, Ibadan offers music since I had flare for it. I jumped at the news and decided to combine the two courses, music and economics but as God would have it, I was told to come the upper year for the course at the University of Ibadan while the polytechnic gave me admission.
I saw it as a divine arrangement to read music. Though, before I left secondary school, I had learnt to play piano. When I got admission, I started improving on that. It got to a time, we started going for competitions and I was always going with them because I was the only female pianist among them. It got to a time that the competition was so hard. They needed people who were perfect in playing so I was screened out.
In my disappointment, I resolved to do something. Then, I contacted a friend who plays the Sax well and asked if he could teach me, but when I told him I wanted to play sax, he laughed and told me that I could not play it because I was a girl. He only advised me to continue with my piano. But I did not take no for an answer. I continued pestering him and when he saw my seriousness, he agreed to teach me.
Initially, he did not want to teach me the depth but when he saw my interest, he admitted he loved my spirit. I started learning with his sax and at a time, I started going out with the school choir and being the only female saxophonist, I was always taken.
That kept me on in school and at a time, I started thinking on how to become unique apart from going out with the school choir. One day, I was invited for a programme in a church and I said to myself that I was not going to do it alone so I got a pianist, another saxophonist and some other instrumentalists and we went to that programme. We performed wonderfully well and I started thinking on the name to give the band and the word exploit just dropped in my heart and I also remembered Daniel 11 verse 32 and I gave the band the name, Exploit.
After graduation, everyone dispersed and I encouraged my sisters. One to play drum-set, another to play base guitar and I had a friend who played keyboard. This time around, it became just female and I named the band, The Golden Female Band. After sometime, my sisters got admissions and the second band dispersed again. That was when I came back to Lagos.
Fortunately for me, I met my husband. When he saw the vision, he started encouraging me. He also started connecting me to different churches and before I knew it, we started looking for a name to give the band and we named it Jesus Gold Band. I do not want to leave the gold because God spoke to me about the gold in a revelation.
Challenges
There were lots of challenges but the one that affected me most was when I couldn't raise enough money to buy my own sax. Whenever I had programmes and wanted to borrow from the school, they would refuse.
Financial reward
Initially, it was very tasking and demanding upon that nothing much was coming but gradually, it started turning out gloriously.
Money is not the focus because we believe that we are ministering unto people.
We don't refuse to play for people because the person is not rich We look into the ministry and if the money they pay could carry my husband and I, we go but you will not get the full band of 18 people. We are not stressing anybody. Our band is for all classes in the society.
Her audience
We are for all people but we mainly attend Christian functions. We attend programmes like weddings, launchings, anniversaries, etc.
We have appointment almost every week. There are times we would have up to five engagements in a weekend. In such cases, we give them time so that we do not disappoint any, but if we cannot meet up, we will tell you.
Was it a dream or an opportunity seized?
It is God's vision for me. I love music and my son too loves it to the extent that if you don't play music while he is eating, he would not eat.
I even went to ask my mum if I did that but she said that they did not notice that. Rather, she said that God told them that my own area was going to be special.
First outing
I felt so great and I thank God for it. Everything I do is from God and also to His glory.
First payment received
My first outing was as a student so I was only paid the sum of N3, 000.00
The outing that brought her to limelight
I have been playing at various programmes so I wouldn't really say that a particular one brought me to limelight.
Expectations
I pray that God will launch us out the more through my album. I expect an explosion that will catapult us to the world. My greatest desire is to win souls for God through my music.
How she met her husband
I met him in the first programme I attended when I came back to Lagos. He was the choir coordinator. I was one of the guest instrumentalists.
After that programme, he told me that he loved the way I played the sax. Right there, he invited me to another programme in his church. After that, he gave me another connection. It continued until he became the manager of the band. I saw that he loved the vision and I allowed him to help in making the best out of it. Then one day, he told me that I am God's will for him. I prayed about it and God confirmed it.
Combining home front with career
Frankly speaking, I found out that anytime we have programmes, God would just work it out in a way that it is either one of my sister's is around or that his own sisters are around to take care of our son and the home. In one way or the other, God will make people to come around us.
If her husband says quit
I will stop but I would plead with him and do some other things to make him realize it is my calling. The Bible says he is my head, therefore, if he insists, I will have no other choice than to stop.
He has been the one encouraging me so, if he has his reasons for saying stop, I would stop. My husband is a visionary who loves carrying visions until it is actualized.
Accessing the music industry in Nigeria
As a musicologist, I can't condemn any music because in Nigeria, we have our own kind of music. In music, it is called pentatonic skills. Some of us are inculcating the American style, which ought not to be. We are supposed to be original. Some of the Nigerian musicians are not really singing what music is all about.
Fulfillment
I am very much fulfilled playing the sax and being in the music industry, which is a tool through which I exhibit my creativity.
Effects of playing sax on women
I was actually told that it had effects such as affecting the womb and that it could cause severe and constant dizziness but I did not heed to that because God was leading me.
I did not find it difficult to take in and two weeks after I delivered my baby, I went to play.
At the eight month, I remember, the doctor advised me against playing but I continued to play till I put to bed and my boy is not disfigured.
Parent's initial reaction
They were not happy when I started. They refused to give their blessings because they wanted me to study economics. Some of their brothers and sisters went to them and said all sorts of things. They were asked if they wanted to allow their daughter to become a musician and other nasty things. There were lots of discouragement but I was determined. My cousins, aunts and uncles were making jest of me and were calling me all sorts of names like drum, piano and other funny names. Now, the same set of people is encouraging me. Even my parents are proud of me and they are happy about it.
Story by http://nollywoodgists.com