Marketers Say Kerosene Can't Be Sold At Govt. Price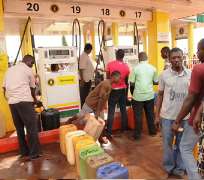 ABUJA, January 25, (THEWILL) - Hard times awaits consumers of kerosene as the Independent Petroleum Marketers Association of Nigeria (IPMAN), Wednesday said the product cannot be sold at the regulated retail price of N50 per litre, since the Nigerian National Petroleum Corporation (NNPC) is the sole importer whereas the marketers buy the product at a premium price.
President of IPMAN, Alhaji Abdulkadir Aminu who made the revelation in his presentation to the House of Representatives ad hoc committee on the management of subsidy also advised the federal government to set aside N5 per litre of fuel from the recent increment to fund the building of new refineries.
Aminu said unless the Nigerian National Petroleum Corporation's (NNPC) monopoly in the importation of kerosene is broken, the price of the product would never stay at N50.
He said the marketers have not been selling at N50 per litre because IPMAN members and other marketers are not allowed to import kerosene; hence no subsidy is being claimed by marketers on it.
"IPMAN interaction with NNPC/PPMC revealed that NNPC/PPMC is not reimbursed on kerosene by the federal government/PPPRA for years until recently. NNPC/PPMC is the sole importer of kerosene to complement local production from refineries (even when no subsidy is paid to NNPC/PPMC by PPPRA/ federal government on kero)", he stated.
He said the challenge the country is facing today could only be resolved if new refineries are built explaining that if subsidy was well managed, Nigeria would not have found itself in the present precarious situation.
Aminu said, "Let the government create an escrow account with N5 per litre from the increase in price of fuel for new refineries. Let us be specific that this is the amount devoted to refineries. The truth is that we need new refineries. Want IPMAN to have its refineries, major marketers to have its refineries."
He described the Nigerian Maritime Administration and Safety Agency (NIMASA) as a toothless bulldog saying, it has proven incapable of policing the nation's coastal waters.
This is just as the managing director of the Nigerian Ports Authority (NPA), Omar Suleiman has disclosed that the Nigerian National Petroleum Corporation (NNPC) is owning the authority N6 billion, being cost of landing and clearing products.
The NPA is in charge of the Apapa port complex, Port Harcourt, and the Delta ports of Warri, Koko, Sapele, Alajda Steel Jetty and the crude oil terminals of Escravos, Forcados and Pennington, and the Calabar ports.