Zumunta Condoles With Kano Residents Over Boko Haram Killings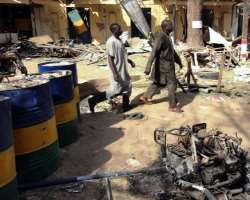 SAN FRANCISCO, January 25, (THEWILL) - Zumunta Association, USA Inc., a socio-cultural group of northerners in the United States of America Tuesday condoled with residents of Kano following the deadly terrorist attacks orchestrated by the Boko Haram in the city which killed more than 180 persons and wounded many.
The statement from the group reads:

"An Open Condolence To The People Of Kano State:
Zumunta Association, USA Inc. would like to extended our condolence to the people of Kano, you are in our prayers and we are with you through this difficult time that befall this great city on Friday 20th, January, 2012.
To all the departed, may your soul rest in peace. We love you and we thank you for your service. To the security forces that lost their lives during this madness massacre, we love you and thank you for your service to our beloved Country.
To the men and women who risk their lives working so tirelessly to assist our fellow human-beings during this difficult time, you are our heroes and heroines, thank you for your brotherly and sisterly love.
To all the children, fathers, mothers and the people of Kano, Muslims and Christians, the whole World feel your pain. We will work with you, and continue to share your pain, and we will never relent till we restore sanity back to Nigeria.
To our leaders, our children are dying, our young men and women are dying, we are bleeding, our Country is bleeding. We demand Our Liberty. We demand our freedom from the vice of all excesses."
God Bless Nigeria

Ezekiel Macham Ph.D
President Zumunta Association USA Inc.

Ibrahim Salau PhD
Zumunta National Secretary General

Mrs Lami Dogonyaro
Zumunta National PRO

"Our Ethnic Diversity is Our Strength."