New Police IGP Abubakar Is A Religious Fanatic; Indicted Over Jos Crisis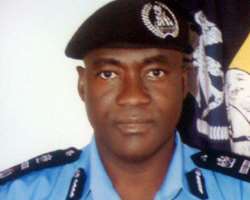 MR MOHAMMED DAHIRU ABUBAKAR
… Justice Niki Tobi Led Jos Crisis Panel Recommended The Sack Of IGP
SAN FRANCISCO, January 25, (THEWILL) - Nigeria's New Acting Inspector General of Police, Mr. Mohammed D. Abubakar is a religious fanatic, according to a White Paper of the panel that reviewed the 2001 Jos crisis.
The Justice Niki Tobi led panel also indicted Abubakar for his ignoble role in the crisis and recommended that he be forced to retire immediate from the force, and even went as far as recommending his sack, if he declines a request to resign honourably, following his complicity in the killing of Christians in Plateau State during the religious crisis in that state.
Abubakar was an Assistant Inspector General (AIG) in charge of Zone 5, but was Plateau State Commissioner of Police during the crisis in 2001 during the administration of former Governor, Mr. Joshua Dariye.
The panel was constituted on September 7, 2001 to review and proffer solutions to the perennial religious crisis that has plagued the state, but its report was eventually made public on February 16, 2010.
It is however not clear why the panel's recommendation on his sack was not implemented.
State Governments have little or no control over the police force or the Police Service Commission.
The White Paper released by the Plateau State Government said: "Religious fanatics should not be posted to head state police commands. The commission recommends that for his ignoble role during the September 2001 crisis which resulted in the loss of lives, the former Commissioner of Police, Plateau State Command, Alhaji M.D. Abubakar, be advised to retire from the Nigeria Police Force and in the event of his refusal to do so, he should be dismissed from the service."
The panel further said, "The non-implementation by government of the report of previous commissions of enquiries and in particular the report of the commission of enquiry into the riots of April 12, 1994 in Jos metropolis (the main features of which are very similar to the September 2001 civil disturbances) is a sure recipe for a repeat performance of such disturbances".
"There was strong and convincing evidence before the commission that: on April 11, 1994, just a day before the fateful day, Alhaji Yaya Aga Abubakar, the President of Jasawa Development Association, in the company of Alhaji Aminu Mato's younger brother, Sanusi Mato, held a meeting at Masallaci Juma at Jos with the Jasawa community during which they resolved to carry out a demonstration the following day.
"So, Yaya Abubakar and Sanusi Mato were directly connected with riots. They were the leaders of the insurrection that brought disaster and shame to Jos metropolis, to Plateau State and to Nigeria, that brought death and destruction of lives and properties".
The Justice Tobi panel further recommended that the Hausa/Fulani should be encouraged to begin negotiations with other communities in the state and "accept the ownership of Jos by the Ajizere, Anaguta and Berom", noting that "Anything short of that will not make for peace in Jos."