'Sanusi Lamido Sanusi is Heartless'- Fani-Kayode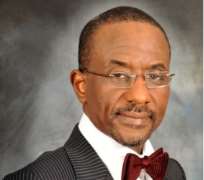 Former Minister of Aviation in the President Olusegun Obasanjo-led administration, Femi Fani Kayode has taken on his long-time friend and Governor of Central Bank, Sanusi Lamido Sanusi, describing him as lacking human compassion.
He also said Sanusi's major belief is that a particular region of the country is superior to other regions and so must continue to rule the people whether they like it or not.
Fani-Kayode, was responding to the tantrum thrown at him by Sanusi in the heat of the debate on the removal of fuel subsidy as announced by the Federal Government.
During the period, Fani-Kayode had written two articles titled: 'Who Will Deliver Us From This Goodluck' and 'The Problem Is Mrs. Ngozi Okonjo-Iweala' in which he described the Finance Minister as an agent of the World Bank.
However, while advising his followers to abstain from insulting former Minister of the Federal Capital Territory, Mallam Nasir el-Rufai, in an article he wrote during the crisis-laden period, the CBN Governor suddenly took a swipe at Fani-Kayode saying his article was in defence of the former FCT Minister, who had been against the removal of subsidy.
"If you knew Femi well you would not be surprised or bothered by his peculiar choice of language. I have seen Femi transit from a rabid ethnic chauvinist and Christian fanatic who thought Obasanjo was a stooge of the backward Muslim north, to a minister in Obasanjo's cabinet preaching national unity, and now to some freelance activist and public commentator," Sanusi had said.
However, reacting to Sanusi's alleged insult, Fani-Kayode described him as one of those who have been misleading President Jonathan.
"People like him are completely detached and they simply have no empathy with or compassion for the ordinary people and neither can they identify with their hardship and suffering. That is the difference between a technocrat from the strange world of international high finance like Sanusi and a politician, lawyer, 'freelance contributor' and 'public commentator' like me. We have a feel of what the people are going through and what they will or will not take but they do not," Fani-Kayode said.
He said though he had always had soft spot for the likes of el-Rufai and former Economic and Financial Crimes Commission (EFCC) boss, Nuhu Ribadu, he can never say the same of Sanusi, who believes that his religion is also superior to any other in the world. He also said he knows how complicated the CBN Governor is as he knew him since the days of the Progressive Action Movement in 2001.
"We were both members of that vibrant political association and we often clashed in terms of our world view and our vision of what Nigeria should be. I remember those days with fondness and we have both come a long way since then.
"At that time, as he quite rightly said in his essay, I was a regionalist and Yoruba nationalist who did not believe in a united Nigeria anymore simply due to what the Abacha administration had put our people through and due to the June 12th annulment," he explained.
Fani-Kayode said that during the period of the protest resulting from the announcement of the subsidy removal, Sanusi spent many hours on television "trying to pontificate to the Nigerian people about the 'blessings' and 'beauty' of having our pump price at 145 naira per litre but unfortunately for them they failed to convince anyone but themselves. Frankly they should both resign now and they would have done so if people placed any stock or value on honour and decency in this country.
"...I was also a hard line foot soldier of NADECO and I reflected the thinking of every self-respecting Yoruba man at that time. I believed then, and I still believe today, that if we cannot have a Nigeria where all people are treated as equals regardless of tribe or faith then we should not have a Nigeria at all.
"People like Sanusi opposed that view and they believed, and possibly still do, that some Nigerians were born to rule and that some faiths are greater than others. And yes, at that time, my views about President Olusegun Obasanjo were precisely what Sanusi said. I, together with virtually every other self-respecting Yoruba man at the time, regarded him as a tool of the north and that he was brought in to serve their interests in 1999 and as a pawn to stop the Yorubas from breaking away. That is what we all believed and that is why Obasanjo was overwhelmingly rejected by his people in the 1999 Presidential election.
"It was after my brother Chief Akin Osuntokun took me for a series of meetings with Obasanjo and after Uncle Bola Ige, his Attorney General and my mentor and leader, encouraged me to get closer to him that I knew that Obasanjo had changed and that his intention was to serve all Nigerians and not just the north.
"This was precisely why I joined his government and after serving him for three years as his spokesman he, thankfully, promoted me to the position of a Federal Minister in two separate Ministries which is a position that Sanusi is yet to achieve," he said.
He doubted the claim by Sanusi that he is "a brother" to el-Ruafi and Ribadu. He then wondered why he expresses so much love for the duo, yet has continued to serve a government that tried to kill and discredit them both and that drove them into exile while he kept silent and never uttered a word while they were being persecuted by the government.
"People have different ways of manifesting their loyalty to their friends so let me give Sanusi the benefit of the doubt here and assume that he was not playing a double game of deceit and subterfuge. My own style and approach to friendship is very different. When I give my friendship or enmity I give it totally but I am always uncomfortable with those that swim with the tide. And I am loyal to a fault to my friends, followers and leaders unless and until they give me a cause not to be.
"More importantly I could not for the life of me understand why Sanusi felt the need to bring me into his love letter to Nasir El-Rufai. What the relevance of my name was in what was an otherwise brilliant article is something that is beyond me.
"Clearly he brought me into it in bad faith and with malicious intent and I suppose he has every reason to do so given the role that I played in the oil subsidy debate and because I referred to his boss, the Minister of Finance, Ngozi Okonjo-Iweala, as an agent of the IMF and the World Bank.
"Sanusi also criticised my words and writing style in a subliminal manner which is certainly his right and prerogative. But frankly as regards my style and the words I used in this matter I have no apology and it is clear that I reflected the sheer disgust and anger that most Nigerians had about the removal of the oil subsidy.
"And that disgust was directed more at the hardliners in the Jonathan administration like him and Ngozi than anyone else because the removal of the oil subsidy was their brain-child and they sought to justify it," he said.