Mass Burial For Unclaimed Corpses In BH Kano Multiple Assaults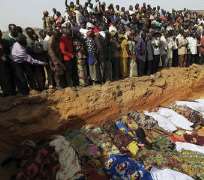 KANO, January 24, (THEWILL) – All unclaimed dead bodies recovered from last Friday's deadly attacks in Kano will be given mass burial, THEWILL has gathered.
Most of the bodies are said to be decomposing at the Murtala Muhammed Hospital in the city.
Paramedics attached to the Murtala Muhammed Hospital who spoke to THEWILL anonymously said that over 50 bodies have so far been buried in a mass grave in Kalebewa village along Dambatta Way. They were buried earlier today.
It was learnt that the state government may have provided a land for the mass burial of the dead bodies.
Sources privy to the arrangement told THEWILL on Tuesday that more corpses have been removed from the hospital's morgue for the burial site.
No hospital management personnel were willing to comment formally on the development as all efforts by our correspondent to get comments on record failed.