AVM ANTHONY OKPERE: I REGRET RETIRING AT 48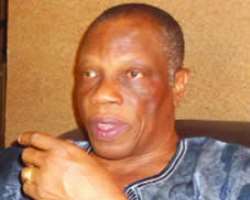 AVM ANTHONY OKPERE
Dusk was fast setting in. So was fatigue. The crowd that had gathered since around midday had thinned out considerably. Those who were still hanging around were just inching closer to the door. For most of them, it was just a matter of minutes.
Then, Anthony Ehigie Okpere, retired Air Vice Marshall, and former Aviation Minister, breezed in. Then, the Ikeja Military Cantonment's Officers Mess, Ikeja, Lagos, venue of the investiture of the new district executive of the Lions Club, Shomolu, bounced back to life. Not only did the former Aviation Minister appear youthful and dandy in his black suit, his presence energised the event. Like a grand master of ceremony, he picked up the microphone and took charge of the programme.
You would have thought it was the beginning of the programme rather than its end. But by the time he was through, about 20 minutes later, he had raised millions of naira in cash and commitment for the club.
Since he left the Nigerian Air Force at the age of 48, exactly 21 years ago, Okpere has found a new love: humanitarian service. The man, who holds the chieftaincy title of Edoho of Uromi said rendering selfless service has always been a part of him. 'Although I have been a Rotarian since my days in the service, ' he begins, 'there was no time for me to be as active as I would have loved to. Now that I am retired, all my time is devoted to the service of humanity. In the Lions Club, our theme revolves around sharing, and I tell you that it is quite fulfilling for me. I always feel privileged to lend a helping hand to people in need. Lions Club is the only service organisation that has a consultative status with a foreign body. We have leveraged on this to help our society a great deal?'
Well, as they say, the taste of the pudding is in the eating. Please, enjoy the remaining part of the interview:
You have retired now for over a decade. How has life been?
Last September made it exactly 21 years that I retired from the service. But I must be honest, till tomorrow, I still dream, at least four days every week, that I am in Air Force uniform doing one thing or the other, with my colleagues. Yes, till tomorrow, which means, from my head to my toe, I think Air Force all the time. I am very interested in what is going on there. I am in constant touch with the authorities in the Air Force, because anything I can do by way of advice, I am ready to do it any time, any day, as my primary constituency. I love that job.
But if you asked me how I have been able to survive in the last 21 years, I would tell you it is through the grace of God, because I see myself very busy. Fifty to 60 percent of my time is on humanitarian work. That has kept me very busy, because it has opened my eyes to a lot of things. Right now, even if there's no NEPA (electricity supply) for two years, it doesn't bother me, because my mind is always going back home. I didn't grow up with electricity. Yes, I shouldn't be happy with the parlous state of our development. It is something you cannot help. But you have to endure it. I work hard to teach the young ones I come in contact with on the need to accept every situation that comes their way, no matter what.
You're really feeling very frustrated with the state of affairs in the country. Are you not?
Yes. But to every cloud, there's a silver lining. I am just hoping that one day, things would go right. Look at what is going on-in every ministry, you have minister of state, special advisers, special assistants and so on, all doing what? The overhead is enormous. We're trying to cut down on expenditure, yet we're carrying such a large body of people. It is saddening. If you check, the only part of the budget that performs optimally in this country today is the recurrent expenditure because that is where they spend money. Go and take a look at the capital budget.
Its performance is nil. And yet we need to create a lot of jobs. If we don't invest heavily in capital expenditure, there's no way we can do that. Okay, just imagine if we had embarked on the construction of the railway system; not refurbishing the old one, but a new modern rail system. For the next six to 10 years that job would be ongoing all over. Imagine the number of people that would be employed-the engineers, the artisans and even people who blast rocks and the tipper drivers. Then, now think of the non-skilled labourers and even food vendors who would be by the rail line for the next 10-15 years selling food. Those indigent women would be able to pay school fees. But nothing like that is happening. It is really disheartening.
I came back from Benin just recently; we spent almost 10 hours on the road, just because a trailer crossed the road. We had to go into the bush. For over four to five hours, we were inside the bush trying to find our way back to the expressway. You can imagine what we went through; just a journey that should take three to four hours. It is wrong. It is absolute nonsense. How do we really get out of this? How?
Meanwhile, the universities are churning out graduates; graduates that cannot fit into the system. Everybody is in the social sciences; nobody is in the core area that would send us forward. We don't have mathematicians, we don't have people in the sciences.
Everybody is in business admin. So, what really is going on? You can imagine the number of people coming out from the universities every year. One area that is seriously missing in this country is that we don't even have skilled workers. The day we did ourselves in was the day we abolished trade schools in this country. If you are looking for a good mason or bricklayer now, you have to look for people from outside the country.
Isn't that what the 3-3-4 system of education was meant to solve?
It cannot because we're not prepared for it. We need schools that would bring out proper artisans. Not everybody would like to have school certificate. Some can't go further than SS3. Even if they get there, they cannot pass. They'd have F9, but they're very skilled. They're good with their hands. They could be good tailors, good carpenters, good masons and so on. We need a school that would churn them out.
If you're looking for a good bricklayer now in Nigeria, you can only find an old man. They have passion for their work, but they still do it the same crude way they were doing it in those days. You can hardly find young people coming in. They're all out there riding okada. It shouldn't be so.
What do you suggest we do to our educational system?
We need to take a critical look at the sector. In fact, it should be completely rationalised to make it more relevant to the needs of the country. If I had my way, I would tell the NUC (National Universities Commission) to pack some faculties, say in Ago Iwoye (Olabisi Onabanjo University) or Ekpoma (Ambrose Alli University) and give them to LASU (Lagos State University) if they have better comparative advantage. We need more people in the sciences to develop this country.
Are you surprised that our economy is still in the woods after almost 15 years of democracy?
It is not magic. Things don't just work out on their own. We still have not got our acts right. It is only when we do that we will expect economic growth. You have to set the machinery in motion. You can't ban the importation of rice without encouraging local production. Besides, the infrastructure is not just there and this lack of infrastructure is not conducive for economic growth and development. Our refineries are not producing, we depend on importation of fuel for local consumption. These indices slow down economic growth.
I know you are knocking hard at 70.
I would be 70 on September 28, 2013.
You look rather young for your age…
Well, the secret is that I sleep with my two eyes closed. I am contented. I tell you, even if I don't have any other food to eat except to soak garri, I am grateful to God, for at least providing me with garri for that day. I do so because I know that if I want to eat continental tomorrow, He would make divine provision for me. I am contented. It is when you begin to think of acquiring, acquiring, acquiring that you have problems. I am satisfied with what I have. I am grateful to God. And I do my exercises.
You said something like your village not having electricity. What was growing up like for you, sir?
In 1964, I was already in the pilot school in the Air Force.
I mean much earlier than that…
I grew up with an uncle who was a disciplinarian. An uncle who knew the value of hard work. He kept telling me, 'Son, you don't know the position you occupy.' I knew I was the first child of my parents.
How many were you altogether?
Oh, at the end of the day, we were 32. But we are about 25 left now.
He was a prolific striker.
Oh yes. Oh yes. He was.
How many wives?
Five wives.
As a first child, were you treated specially?
I didn't grow up with my dad. When I was born, my father was conscripted into the Army (Royal West Africa Frontier Forces). He went to Burma. So, I didn't even know him. My mum was with my maternal uncle. I was born into his hands. I grew up in his house. He was the one who brought me up.
All the time, he kept telling me, 'You don't know the position you occupy.' I didn't even know then that the Okpere clan was that large. I didn't know the role I was supposed to play. I didn't know that my father being the first son, and myself being his first son, that I had such responsibilities; that in future, I would have to carry the responsibilities of everybody on my shoulders.
My uncle kept telling me, 'You need to work hard. You need to be a man. You need to be on your own.' Before he became born-again, when everybody was going to the church, he would tell us to go to the farm, because Monday to Friday, we were in school. Saturdays and Sundays were the only free days. And he would say go to the farm on Sunday. I was always kicking against it.
I was in a way, very stubborn. His answer was always, 'The pastor that is preaching in the church is sure of the food he'd eat. But you're not sure of yours. The only way you can be sure of your own is if you go to the farm. And because you're in school on Monday to Friday, Saturday and Sunday are the only days you have to work in the farm to produce the food you'd eat throughout the week.' Though my colleagues and I kicked against it, nonetheless, we went. That is to tell you what a disciplinarian he was.
Did he use the whip?
Oh yes. Any time you committed an offence, he would give you the first warning. Then second and third warning. The fourth time, you got one lash.
Just one?
Yes, because the next day, you would definitely commit another offence. Then, it would now be two. Gradually, it would get to 10. Then it would zero out again. He kept on whipping you every time.
I am sure you were committing an offence every day…
The slightest offence merited either a knock or a whip from him. In a way, that brought me up to respect authority, to know your limit, to know what to do, to do something and do it perfectly so as not to incur any wrath. That was the way it went. Before I went to the secondary school, I also had to stay for some months with a teacher, the late Mr. Unuane.
His son, Mike, owns Iduna Hospital. He was from Ujagbe. Incidentally, my parents' clan migrated from Ujagbe to Uromi. My uncle sent me there just to have a different experience. There were so many of us there. We had to leave the house at 4 a.m. to go to the stream. By the time we returned, the girls will have finished grinding beans and frying akara. We would go and sell them before leaving for school. After school hours, we would go out again to sell the leftovers at 10 for a penny. At a point, I got tired of going to the stream every morning. I didn't know how to swim. I was afraid I might drown. I had to quietly complain to my grandmother. So I was allowed to go back to my uncle's house. Until I left the secondary school, I was there.
Which school?
I attended Government School and Ishan Grammar School, both in Uromi.
What year?
My primary school was from 1948-56. Then, I entered Ishan Grammar School on 24th of September, 1956-1962.
That was under colonial government, more or less; when you had white principals and teachers…
Yes. We were lucky that in our secondary school, we started off with two Reverend Fathers, some white teachers and, then, some very intelligent Nigerians. DIG Oyakhilome was one of our teachers. Dr. Aire was another. Then, we had Professor Akumabor, Dr. S. B. Omoregie, Mr. Isichei, the late Pius Aigbiremolen, the late Oseghae…We had very seasoned young and old teachers. We were very well taught. We were lucky. The teachers had passion for what they were doing.
The school was owned by both council and government. The late Chief Tony Enahoro was instrumental to establishing the school. He fought to ensure that a secondary school was in his hometown. Although Ishan Grammar School was a local school, it was staffed by the missionaries. It was a very good blend, because we had government establishing our school, and at the same time, the missionaries staffing it. Before then, the Catholic Church had established Annunciation Catholic School in Irrua, just a year before ours. As I said, we started September 24, 1956. At the end of the day, we spent six years and a quarter in school.
Why?
After the fifth year, we were told we were just a new school; that we were not cleared to do our School Certificate Examinations. But within four years in the school, some of us had our A-Levels. At that point, some left. My childhood friend, Mr. Andrew Masabe left after the GCE O-Level. He said there was no point continuing. I had also left when I passed my papers, but I was sent back by the late Pa Ayewo, founder of  the first kindergarten in the whole of Ishan division, which Dr. Abebe (the late Stella Obasanjo's father) and my uncle attended. I had gone to the Post Office with my father to collect some mails. He was happy walking with me on the street because I was doing well. For me, it was a very good experience. It was on our way from the Post Office that Pa Ayewo saw us.
He asked what I was doing at home when my mates were in school. My father happily told him that since I had passed my GCE O-Level, there was no point staying in school; that I should go and start looking for a job. For the first time, I saw somebody commanding my father. I was shaking. He just called my father by his first name: 'Paul, do you know the value of Cambridge Certificate? What do you mean that there's no point staying in school? Now, Anthony, must go back to school, this evening.'
And I heard my father say, 'Yes sir.' So, if my father could say yes sir to somebody, who am I? So I went back to school. But at the end of the fifth year, we were not allowed to write the School Certificate Exams. They said we were a brand new school; and that we still had to get mature. The teachers said if there was any of us interested in Advanced Level, we should come for extra tutorials. Some of us enrolled. So, my A-Level papers came out before my School Cert result, which we did in 1962.
What happened afterward?
When I left school, I taught in a model school where I earned 14 pounds sterling in a month. For me, that was a huge sum of money. I was under 21 years.
I left Uromi in April 1963 for Lagos. With my A-Level papers, I got a job in Central Bank of Nigeria, through the help of Ijewere who was then director of operations. With my allowance and everything, my salary was about 55 pounds. I told my uncle I didn't want it. He said, 'Why?' I told him the money was too much. Just to tell you how naïve I was.
I was then taken to Federal Office of Statistics as assistant executive officer on a salary of 37 pounds, 10 shillings. I was not really interested in that job, so I did it for just about eight weeks. Luckily for me, during that period (in June), advert to join the Air Force came out. I applied, wrote the exams and I was selected.
What was it about the Air Force that appealed to you? Was it because Papa was in the Army?
No. I was just interested in flying. I saw Awolowo campaign in 1959 in a  helicopter. I was fascinated. I told myself, 'This is something I would love to do.' But I filed it away at the back of my mind. I didn't even know I would have such an opportunity until that advert came up. I joined the Air Force in the hope that one day, I would have the opportunity to do exactly what I saw in 1959.
Where did you train?
We started our military training in Kaduna. After that, we now went to Germany for our pilot training. We were pioneer set in the Air Force. We were so many that we had to be broken into two-a batch went in August and our own batch went in October 1963. That was how eventually, I qualified as a pilot.
Fortunately, I had a good friend right from the first day I joined the Air Force, AVM Bello, who became Chief of Air Staff. We were squad mates. By the time I returned from Germany in 1967, he was in charge of training.  The (Nigerian civil) war was on. The government just bought some helicopters. Bello remembered that I was always saying I was interested in flying helicopter. He slotted my name in for training at Bristol Helicopters in England. I came back in March 1968.
I got married in April 1968. Few days after the wedding, I was shifted back to the war front. There was no honeymoon.
What was her reaction?
Well, she had to accept things the way they were. It was duty call. She knew exactly who I was and what I was doing before she agreed to marry me. She couldn't complain. I wasn't alone. Others were there, so I should go and join them. That was how it happened.
I am grateful to God for the opportunities I was given all the time. I always put in my best and my promotions ran the way they should run. Appointments came. I didn't lobby. They would call me and say, this is where they want you to go. I would say, 'yes sir.' I would go there, study the situation, put in my best and come out.
I was posted once to Makurdi as AOC. As I was boarding the flight, another signal came that I should report in Lagos. Then Chief of Air Staff, Ibrahim Alfa said the president wanted to see me on a different assignment altogether. When I got to Dodan Barracks, the president (IBB) told me he wanted me to go to Nigeria Airways. That was  in March 1986. In December 1987, I was in my office when the late Admiral (Augustus) Aikhomu called me to say that I should listen to radio announcement by 4 O'Clock.
I tuned the radio only for me to hear that I had been appointed Minister of Aviation. (The ministry had just been carved out of Transport then). That was how I started the Ministry of Aviation with a few people and a manual typewriter. I am happy to see the way the ministry is growing today. We're still not there, but at least, we are moving in the right direction.
You were discharged at the age of 48. Were you prepared for it?
No.
When you were appointed minister, you knew that was an exit point for you?
Not really, because by (19)89, I was called by the president again, to 'get prepared, you're coming back into the Air Force to take over command. Get back into the system because of what would happen later.' In other words, I was preparing myself, or was being prepared  to take over as Chief of Air Staff (CAS). As that was going on, my other colleagues were also fighting to become CAS. So I wasn't alone in the race, as it were. So when the CAS didn't come, I was posted to Makurdi.
You felt rigged out?
I wouldn't say that. I am not quarrelling with anybody. I have taken it that way. Okay, fine, it didn't get to me. It went to somebody else, fine, because the way I felt is the same way the other fellow would have felt too, if I were the one that was made the chief. But since I didn't get it, fine. Let life continue. But then, to have been retired abruptly like that was something I felt was unfair to us. The then CAS was rather unfair to his colleagues, because he was the one who recommended to the Commander-in-Chief that he could not work with his colleagues.
I didn't see any reason for that. Why can't you work with people you've been working with all along because you're the CAS? Nobody is coming to take over your job. All he needed was, 'use what you have.' Don't forget that if you're a leader, it doesn't necessarily mean you are the best brain. But you're just one out of the lot. And for you to succeed, you need people around you.
I have always told people, when I am talking to younger ones in administration or under management, that if you expect 100 following, you're very wrong as a leader. In any organisation, at least, 20 per cent of that group would cause trouble for you. Because they resent everything you do, they'd like to put a stud in you way. Twenty per cent would be hard workers; very active. So they become your followers.
As a good leader, you should learn, first, to put round pegs in round holes. Then, you should learn to identify the 20 per cent that would cause trouble and put a circle around them. Don't antagonise them. You know they're not for you, but relate with them. Be very diplomatic in dealing with them.
The 20 per cent that would work so hard, use them as much as possible. Sixty per cent are zombies. So if you have 20 per cent plus the zombies, that  is 80 (per cent). You've succeeded.
This is your leadership model?
I have used it. And it has worked for me.
When did you develop that?
Right from the word go. Thank God, I worked under General Obada. I worked under him, and he taught me a lot.
Can you tell us any of your unforgettable childhood memories?
It took place when I was a little boy. I was about to enter college. The man in charge asked for a bribe of 20 pounds before he would facilitate the scholarship process. My father could not afford to pay the money. But then, he had a new Raleigh bicycle, which he had bought for 16 pounds and cash of four pounds. He had to give out the new bicycle in addition to the four pounds to the man so I could go to school. That is a great sacrifice I would never forget.