Read The Boko Haram Warning Issued Before The Kano Massacre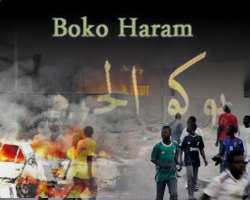 … Tambuwal Asks Sect To Respect Sanctity Of Life
SAN FRANCISCO, January 21, (THEWILL) – With just a few hours before the deadly attacks orchestrated by the Boko Haram in Kano were executed, sect members distributed leaflets around the metropolis warning residents of Kano State that it would unleash attacks on security personnel, their agents and Christians.
The Islamic terrorist group also warned that the Boko Haram name given the sect is illegal, affirming that they are the Jamatul Ahlil Sunnah lit daawati wal jihad.
THEWILL obtained a copy of the leaflet and got one of our correspondents fluent in Arabic to translate the contents into English.
The message reads:
"We are the people being called the illegal name --Boko Haram -- but our name is Jamatul Ahlil Sunnah lit daawati wal jihad.
The message to the people of Kano is to remember that police in Kano have at most times arrested our members but referred to them as gunmen or armed robbers.
So mind you that we will attack anyone who is arresting our members.
We are however only fighting security personnel and their agents including Christians."
Tambuwal Asks Boko Haram To Respect Sanctity Of Life
Speaker of the House of Representatives, Hon Aminu Waziri Tambuwal, has urged all Nigerians to respect the sanctity of human life while voicing their grievances, saying last Friday's multiple blasts that rocked the ancient city of Kano call for greater concern and sober reflection.
In a statement signed by his Special Adviser on Media and Public Affairs, Imam Imam, Speaker Tambuwal equally decried the needless shedding of blood when the country is yet to recover from a general strike.
Such an act, the Hon Speaker noted, will send wrong signals to the international community that the country is not safe for investors.
According to him, the surest way to resolve any differences is through dialogue and therefore challenged those with grievances in all parts of the country to follow the path of dialogue instead of violence.
While commiserating with the families of those killed or injured during the blasts, Speaker Aminu Tambuwal called on all security agencies to double their efforts in the discharge of their responsibilities of protecting the lives and property of the citizens.
He reiterated his earlier commitment that the House of Representatives will work with other arms of government to ensure a return to normalcy in all parts of the country.