Revealed: Security Agencies Foiled Boko Haram's Plot To Bomb Shell, Hotel, Barracks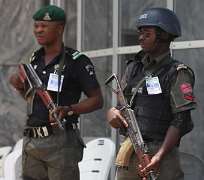 PORT HARCOURT, January 19, (THEWILL) – An attempt by members of the Islamic terrorist sect, Boko Haram to infiltrate security agencies in River State, that would have led to the successful bombing of a military barrack, a hotel and an oil installation belonging to Shell, during the Christmas Season was foiled by security agencies, a top military brass disclosed in Port Harcourt, Rivers State Thursday.
Commander of Operation Pulo (Oil) Shield, which replaced the JTF and Brigade Commander, 2 Brigade of Nigerian Army, Port Harcourt, Brigadier General Yusuf Tukur Buratai in a briefing with journalists after a Rivers State Security meeting, said security agencies successfully thwarted a sinister plot orchestrated by the Boko Haram, whose criminal activities have been purely domiciled in the north, had sent members to bomb the Port Harcourt Barrack, Bougainvilla Hotel and a Shell facility along Aba Road; a plot which had been scheduled to occur around the Christmas holiday.
"Through the collaborative efforts of the Brigade and DSS, an attempt to bomb Port Harcourt Barrack (Bori Camp), Bougain Villa Hotel and Shell facility along Aba Road was foiled on the night of December 24th/25th 2011. The suspects were arrested in the Barracks as well as other locations within the city," the army chief stated.
A soldier who was detained alongside some of the suspects was released after investigations revealed that he was not a part of the plot, but was just in the vicinity where some members of the sect were arrested.
"The soldier happened to be around the area. In the process of the arrests he was found there and unfortunately he is a friend to a suspect but following investigation, we found that he was not involved…
"They had materials for making Improvised Explosive Devices (IEDs) capable of causing heavy damage. The suspects have made useful statements and would soon be arraigned accordingly," Buratai said, adding that the suspects were still being interrogated while investigations into the bombing plot are still conducted.
There have been fears that security agencies have been infiltrated by the terrorist group whose key members operate anonymously.
President Goodluck Ebele Jonathan recently expressed his frustrations with secrecy surrounding the sect mode of operation, when he said government has been infiltrated by officials sympathetic to the Islamic terrorist group.