We Marry Entertainment And Motivation To Reach The Youth - Love Idoko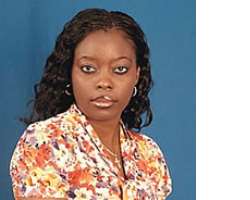 Love Idoko is many things to many people. To some, she is the publisher of the soar away Moti-vation magazine; to others, she is a foremost entertainment promoter who has connection in right places. Her Democracy Day concert in Benue, a few weeks ago that had the governor of the state in attendance, is still fresh on the people's mind.
This Microbiology graduate, who is also a daughter of a former chief judge, has no qualms in defining herself. According to her, "I am just the girl next door with a burning desire to make positive impact in my environment with the little God has given me, especially in the area of entertainment."
Talking of positive impact in entertainment, Love has made much, and she is not relenting. That is evident in the current edition of her magazine, Motivation, that has Ghanaian top actress, Jackie Appiah, on the cover.
Her bias for entertainment and motivation is apparent in the 36-page magazine. With four pages, picture splash of the magazine's second anniversary, three pages of report on the democracy Day concert with live pictures of entertainers on stage and two motivational articles in-between, the tone of what to come is set.
The publisher leaves no one in doubt of what her mission is motivate people with heavy slant of entertainment. "It's like the proverbial stone being used to kill two birds. We want to motivate young people; at the same time, entertain them. If you don't want to read for motivation, you will be attracted for the entertainment content."
Call it a double-edged sword and you won't be wrong. For the teeming readers of Motivation, the thrust is a welcome development.
Jackie Appiah, the Ghanaian actress; Gordons, the frontline comedian, Bhaira Mcwizu; Michael Jackson and several picture pages with knock-out graphic project, the entertainment side of the magazine; while write-ups such as attitude is altitude, parked at owners' risk, King of kings and other stories, speak volume of the inspirational slant of the beautifully-planned, all-gloss magazine.
With Jackie revealing her ways with men and her journey so far, the magazine shows that young people are no push-overs.
The efforts of Love and her team have not gone unnoticed as, NAFDAC, FCMB and some other top flight organisations patronise them with adverts.
That also goes to show that when you marry two unbeatable combinations such as entertainment and motivation, success would be inevitable.
Story by www.nollywoodgists.com