Police Confirm Escape Of Xmas Day Bomber, CP Suspended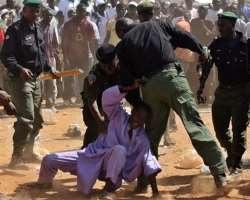 … Boko Haram Elements In Police Force Facilitated Escape

SAN FRANCISCO, January 17, (THEWILL) – The Nigeria Police Force Tuesday confirmed that a high priority suspect, Mr. Kabiru Sokoto, detained over the Christmas Day bombing in Madalla, near Abuja, escaped from police custody, while he was being led to his residence in Abaji, near Abuja as part of investigations -- an embarrassment to the police force and security agencies.
Local media said the suspect was arrested inside a Borno State Government Lodge a few days ago, after an extensive trail by security forces.
Recall that Boko Haram claimed responsibility for the deadly bombing which killed more than 40 people and wounded many.
A police team escorting Kabiru to his residence were allegedly attacked by youths suspected to be members of the sect in Abaji, but a top security source in government told THEWILL Tuesday that the escape must have been orchestrated by some Boko Haram members in the force.
Following the suspect's escape, the police administration said it has suspended the Commissioner of Police in charge of Zonal Criminal Investigation Department at Zone 7, Police Command Headquarters, Mr. Zakari Biu.
Biu was prominent in the Abacha junta used as a goon by the draconian administration to inflict pain and torture on anti-government elements. Police fear he is a member of the Boko Haram and have opened investigations.
THEWILL had previously reported that Boko Haram has sympathetic members in top government positions and security agencies. Also, President Goodluck Jonathan recently admitted that Boko Haram elements have infiltrated government.
A statement from the police force on the development written by Olusola Amore reads, "The Nigeria Police Force wishes to confirm that a suspect was arrested in a successful Police operation and was rescued from a team of Police men detailed to carry out further investigation in the matter.

"The suspect was handed over to a Commissioner of Police for further investigation and he consequently detailed his men to take the suspect to Abaji in furtherance of investigation.
"In the course of undertaking this important procedure, the Policemen on escorts with the suspect were attacked by the suspected sect gang members and in the process the suspect freed.
"The Police view this development as a serious negligence on the part of the Commissioner of Police and have since been queried and suspended him from duty.
"If a criminal case is established against him and his team, they will be prosecuted."