UCH TAKES OVER OTUNBA TUNWASE PAEDIATRIC CENTRE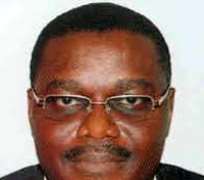 •Prof. Chukwu
For seven years, more than 10,000 children had benefited variously from the kind heart of the founding chairman of the First City Monument Bank (FCMB), Otunba Michael Olasubomi Balogun, through numerous medical and surgical interventions they received at the Otunba Tunwase National Paediatric Centre, Ijebu-Ode, Ogun State.
In seven years too, the tertiary referral centre, which was ran largely through the charity effort of Otunba Balogun, had gulped from an initial N10mllion in 1994, the sum of about N2billion as at 2011, and it is still undergoing stages of upgrading to make it stand at par with similar structures internationally.
However, the centre which had served as a referral centre for teaching, research and healthcare delivery for infants and children since it was commissioned in 2004 has changed hands and ownership as the University of Ibadan (UI) and the University College Hospital (UCH) Ibadan, have taken over the running of the centre.
Speaking at the event to mark the formal hand-over of the institution to the managements of UI and UCH, Balogun humbly acknowledged that his dream of establishing a uniquely different paediatric facility in Nigeria has been fulfilled.
According to him, 'Over 20 years ago, the UCH invited some of us Nigerians to come and look at the dilapidated conditions of their hospital wards and then do something.
I walked into the children's wards and while I was waiting, a drip stand was being passed from one bed to the other and before the drip stand could get to one of the beds, the child who was to receive the drip died; tears rolled down my eyes and from that day, I said I would devote substantial part of all my endowments towards child care and survival.
'So, I decided to adopt, endow and refurbish the children's emergency ward in UCH which has now been named after me as the Otunba Tunwase Children's Emergency Ward and I am happy it is about the best maintained ward in UCH.'
He added that after the UCH experience, there was the conviction to replicate a similar venture in his hometown, Ijebu-Ode, hence the construction of a 40-bed children's ward named 'Iye Subomi Child Care Centre.'
Subsequently, his interest forged beyond just child care but research into diseases that affect children, thus the motivation to build the National Paediatric Centre which unfortunately, 'was being under-utilised for the purpose it was built,' noted Balogun.
According to Balogun, the complex which has 10 incubators, some 25 surgical beds and cots for patients as well as two theatre units, laboratories, pharmacy, blood bank, lecture theatres that can accommodate 100 students, accommodation for 90 students and consultant doctors, an auditorium for 1,000 people among others is severely underutilized even as premature babies are the most cared after at the centre most of the time.
'It was all in my urge to have the best, but which was now having its other side, as the maintenance was now draining my little resources and I am not getting any younger. So, I had to approach UI and UCH to take it over since they brought me into child care and I asked them to take over and manage it as their own.
'I am particularly pleased the way they received the invitation with enthusiasm and there couldn't be a better alternative because I have envisaged living this legacy in the hands of a stable institution that can further my dream even beyond my best in estimation. Otunba Tunwase National Paediatric Centre is a gift to children and the world.
'I am pleased and honoured because I know UI and UCH would take the National Paediatric Centre to greater heights from where Professors Adenike Grange and Michael Bankole, both who are the best internationally in the field of paediatric, have begun and worked tirelessly to achieve today,' Balogun added.
Speaking on the take-over by UI and UCH, Vice-Chancellor, Professor Isaac Adewole, described the event as 'epoch and unique' for the two institutions.
He summed his expectations as; 'turning the centre into a facility for some level of income generation that can be plowed back into the system, expecting that some endowment will continue to flow from the benefactor, Otunba Balogun, and as a university, would also raise fund to turn the centre into a service centre as well as a foremost research and training centre, which would generate grants that would bring in some resources.
'The long-term objective however would be to make the centre self-sustainable and not a profit making venture,' said Adewole.
With the take-over, the new name of the centre becomes Otunba Tunwase National Paediatric Centre of the University of Ibadan and shall be composed of nine board members, three each from UI and UCH and three from Otunba Tunwase Foundation and shall also have a new medical director and staff to be funded by the University of Ibadan.
According to Professor Adewole, the new centre will equally acquire additional specialities such as a maternal health, orthopaedic trauma, and paediatric centres with the first set of medical students resuming in January 2012.
Its provost, former Minister of Health, Professor Adenike Grange, goes into retirement and as she noted, 'I would now devote my life to international work which I have always done especially as it's my first love, paediatrics.'
Professor Grange who was the provost between March 2009 and December 2011 expressed delight that the centre would be in safer hands and the nation would be able to benefit from a truly public private partnership initiative.
'From the partnership, I believe the world would now be able to see that Nigeria can run an effective and efficient healthcare delivery system which is close to the community and at the level of care the community can identify with as well.'