WHY AIRLINE BUSINESS IS NOT PROFITABLE- KAHSSAYE, CEO, AIR NIGERIA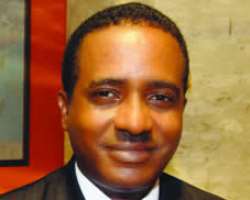 •Kahssaye
Kinfe Kahssaye, chief executive officer, Air Nigeria, is one those who believe that support should be given to the aviation industry, despite its slow returns on investment. He said the International Air Transport Association (IATA)'s study that revealed that the global aviation sector recorded 0.1 percent profit in 40 years is a true reflection of the workings in the industry.
The huge capital outlay aside, Kahssaye, an experienced aviator, also said, is a fragile industry that requires expertise, not grandstanding, to operate successfully.
He, however, said the aviation sector is the pivot on which global businesses resolve, urging various governments to support the industry as much as possible. He said operating in Nigeria is quite expensive because charges are high and compulsory. He urged the Federal Government to grant the operators waivers on spares imported into the country and also help them with the training of fresh hands needed to replace the ageing workforce in the sector.
As regards the airline under his watch, Kahssaye noted that Air Nigeria, as it is today, is on progress path, despite its past financial predicament.
He added that plans are afoot to expand its operations beyond Africa as it warms up to be a major player on the global scene.
In this interview, he speaks about the sector, the airline and other issues.
Excerpts:
Loss
We lost $370 million between 2005 and 2010. It was a serious challenge for the airline. That was when it was still Virgin Nigeria and, at a point, the father (Virgin Atlantic Airways) pulled out in 2009 because it felt the loss was huge. The airline was in serious financial crisis then, but thank God for our Chairman, Jimoh Ibrahim, who took over the company. One of the things he did was restructure the debt, debt financing, so to speak. This singular move helped us a great deal. It reduced the strain on our operational costs and we were able to survive those worst moments. As of today, we're forging ahead. We're breaking even on net profit. One can say we're approaching profitability and am very happy about that.
Layoffs
There were rumours and newspaper reports recently that we sacked 60 percent of our workforce, I want to state clearly that no such thing happened. What we did was excess manpower reduction. What happened was that we laid off 60-70 people from the company, and that does not constitute 60 per cent of our workforce. Sacking 60 people doesn't translate to reducing our workforce by 60 per cent because our staff strength is not 100. So, they mean two different things. Why did we sack them? Good question. You see, the business and the operating environment affect how a business is run.
Aviation fuel price increased last year and it automatically increased our operational cost, because fuel accounts for a good percentage of our cost of operations. With that, we had to find a way of reducing our operational cost too. We discovered we were somewhat overstaffed in certain areas, especially the support staff like administrative personnel, marketing etc. So, we reduced our staff strength to tally with the reality on ground.
Moreso, there allegation that we fired mainly full staff and replaced them with contract staff who earn far lower salaries is also not true. That is never our strategy. But again, I have to repeat for clarification that those laid off were those outside the core technical areas. They were not in operations. There's a minimum number of technical staff an airline must have to operate safely, because that requires having core skills. But the support staff can be outsourced. We'll even need more technical staff as we expand our operations.
Fleet/maintenance
We have 11 airplanes. But we've some airplanes for delivery soon. We have revived our orders with Embraer for the e-jets. We're also working on leasing B737-700NGs and Airbus A330-200 for our long haul operations. The e-jets we've acquire outright but the Boeings will be on lease. The e-jet (embrear 190) will cost $70 million each. That money should not come from our pocket completely because we arranged financing too. Our chairman has tried to package this; he has arranged some banks and we're working closely with him on this. Our plan is to have 15 airplanes by 2015.
When the airline was taken over by our Chairman, it had five airplanes. As an operator, it will be an impossibility to have all the airplanes flying at the same time. Definitely, you will have some going for scheduled mandatory maintenance. Ours is not different. So, some of them are out for C-check and you know C-check is every 18 months. How long the plane will be out for maintenance depends on the maintenance company.
The problem or challenge operators in Nigeria face is that there are no maintenance facilities that can take major checks like C-check. Operators are compelled to fly the airplane to some other countries in Africa, Europe, USA etc. for repairs. This costs a fortune when viewed against the naira equivalent. More so, it takes a while before it returns and the airline operator suffers reduced capacity/operation.
Air Nigeria's maintenance hangar
We're working on having our own maintenance hangar because overseas maintenance gulps a lot of money and takes more time. Both ways, it hurts the airline. We're still working on the papers and our plan is to realize it within three years. Once we complete some of the under ground paper works, we'll be able to say whether it would be situated in Lagos or Abuja or some other place. At that time, I'll give you the accurate amount it would cost us. We're preparing for it and I know we'll realize it within three years.
New routes
We have some regional and domestic routes we want to introduce within the first half of 2012. Benin and Calabar/Uyo on the domestic routes and six new destinations on the region; Kinshasa, Freetown, Ouagadougou, Bamako, Conakry and Malabo.
We did a thorough route analysis and market assessment before coming up with the new destinations. We're also working on our Lagos-London and Lagos-Johannesburg services within the same period. You people wrote about the high fares charged Nigerians on the London route and we want to come in and provide excellent services at competitive rates. The same story goes on the Johannesburg route. As you can see, other airlines are benefiting on that route and more so, the market is there. It's not saturated. It's a good market. But how do you penetrate that type of market? You need to have the right market mix strategy. You need to have the right airplane and right cost analysis because if the cost is excessive, then it'll be difficult.
So, for us, we're working on strategies that will give us good customer products, whilst also working hard on the cost side to get it right. The airline in the past commenced operation on these two routes and later packed up, but this time around, Air Nigeria will get it right.
Customer satisfaction is key to us. We are aware of the competition on the routes we want to fly to and we'll ensure we're up to the task. Competition is good because the consumer is the best for it.
People advising us to stick strictly to the regional operations probably does not understand that we're gradually becoming a global airline, especially with our codeshare and interline arrangement with some global players. We'll get it right, no doubt about that and we'll consider operational costs too. These will guide our decisions. Our future depends on the success of our long haul operations. Our vision is going global.
We should be seen on the global scene as a major player in an alliance. It won't be easy, no doubt but we're ready to make the necessary investments to develop the routes we're eyeing to fly to. We can't be shy and stick to where we are always. We don't have ambition expectations. For the first two years, it'll be challenging because of the competition and for us developing a new market, we just have to make that investment. Our Chairman is willing and one vision he had was to open the long haul route as quickly as possible. Now, we're almost there and he'll back us on that.
As regards whether we'll like to fly into Heathrow or Gatwick Airport in London, I'll say that we'll likely be flying into Gatwick. As you know, Heathrow is very difficult to get into. Arik was facing that problem recently, especially the Abuja-London Heathrow service. We have appealed to the Aviation Ministry to help us get access into Heathrow. We tried to use the present discussion on slot and BASA between Nigeria and the UK to tidy that up. Am not sure the Aviation Ministry has succeeded. I don't have that information. But there is a back up. Air Nigeria has been operating the Lagos-Gatwick (as Virgin Nigeria) service in the past. We know the market and we know it is not the same as Heathrow. Still we know that we can build that business even if we fly into Gatwick.
Engineers' strike/NAAPE crisis
The National Association of Aircraft Pilots' and Engineers (NAAPE) came to our office around January ending (2011). We had a very good meeting where lots of issues were discussed. There was no issue with maintenance of our airplanes or technical staff at all until they called for the strike involving our engineers. They didn't follow due process in calling for the strike because we were caught unawares. Though we have settled everything but strike is not a new thing in airline business or in any country but there's a process to follow. Qantas faced strike recently, Air France also face it from time to time etc.
So, it happens to any airline or any country but they follow due process. If they have issues, they communicate, they open up discussions and if the issues cannot be resolved by the company, perhaps they go to the government and from there, they can then take the decision of strike because it also affects the country's citizens too and the image.
But in our own case, NAAPE suddenly did that. Not only that, in fact, the information given to the media about our operations was not correct. The issues NAAPE asked us to handle are being looked into. In fact, some of them, the board and management have addressed them while we're working on some others. Some equally need a lot of time to implement and we let them understand that. We are working very hard to build safe, secured and enjoyable global airline. It's a Nigerian airline and we should to protect it.
New salary package
Starting January 2012, we'll come up with a new salary structure. We told NAAPE as well. That will take care of the agitation for improved welfare package. It'll also help bring out the best in the workforce.
Domestic market
I don't agree that some of the domestic routes we intend to start are already saturated. Nigeria is a big aviation market. In fact it is untapped if you ask me. We have over 160 million people and about 5million are flying. That is a big market that is not fully tapped and as such domestic route expansion for us is no stress. We just need the right airplane for the right route that is all. You don't deploy mid-size jets on new routes with initial low capacity. Some of the markets just need a 50-70 seater airplane and that's what we'll use. We won't do a route/equipment mismatch.
FG's plan to float a national carrier
If you talk about birthright, Air Nigeria is the first child of the defunct Nigeria Airways Limited (NAL). So with NAL dead, it's only natural that Air Nigeria takes it place. When stakeholders talk about a national carrier, we have to remind ourselves that President Obasanjo in 2004, created Virgin Nigeria Airways (VNA) with the mindset/objective that it operates like the former NAL.
More so, Nigeria has invested in VNA that now became Air Nigeria hundreds of millions of dollars. Should we now jettison these investments and start building a new national carrier when there's one that perfectly fits into that mould? I'll let Nigerians provide answers to that. Air Nigeria meets all world-class standards. It is the only airline in Nigeria to have the International Air Transport Association Operational Safety Audit (IOSA). That is a major requirement if you want to play globally. You cannot even interline without it and just recently, it was recertified by IATA.
The airline business generally
I must say this; aviation (airline) business is not a lucrative business. It's a glamorous business. According to IATA's studies, in 40 years, the profit margin in the global airline business was only 0.1 (point one) percent. It's a delicate and fragile business but at the same time, it's very vital to development. It's an engine for globalization and stimulates economic growth. You cannot talk of socio-economic development of a country or region or continent without aviation. International businesses, trade, commerce, tourism all thrive on the wings of aviation and that's why deliberate efforts must be made to support the industry. It requires continuous investment of gargantuan proportion, especially with the global terrorism/security threats.
That's why the USA gave its airlines billions of dollars to fortify the industry after the September 11, 2001 terrorist attack.
Challenges
There are lots of challenges facing the airlines operating in Nigeria. We really need the government's support. First of all, we (domestic operators) should not be paying the high duties we pay on imported spare parts for our airplanes. It's really a burden to us. you can imagine that when we buy or lease airplanes, we pay duties. This is very costly and weighs us down financially. This is not the case in many countries that are even poorer than Nigeria. When the government insulates us from these duties, it'll help us a great deal.
Another challenge is the absence of long term financing from government. We need that with low interest rate. That will be another stimulant.
Manpower dearth is another challenge. We need the government to strengthen the available Aviation Training Organization we have. They should also help us train young hands because the challenges of the industry today do not give airlines strong financial muscles to train fresh hands from scratch. We are already doing our own training in several areas, but the fresh hands can be trained by the government.
Another challenge is costly fuel, but I feel that's a global issue. High fuel cost has made air fares rise.
2011 operational summary
We carried out safe  operation throughout the year and more so, for the third consecutive time,  Air Nigeria passed the IATA Operational Safety Audit program (IOSA). The first airline in West Africa to achieve this feat. We also entered into strategic alliances - code-share with Delta Airlines and several interline agreements signed. We worked hard in expanding dominance in the West and Central Africa region and kept our financial turn-around in the right direction. We increased our fleet size to 11 aircraft.
Plans
The airline is currently implementing a turn-around strategy to ensure fast and profitable growth. We also poised to deliver exceptional travel experience to our customers and reposition the airline to be the leading player in West Africa.
We want to build a competitive and strong global network, based on the Lagos hub. We also want to build a Maintenance, Repair and Overhaul (MRO) facility and competent workforce. Introduce four additional Aircraft: 2 A330-200 and 2 B737s NG/e-jets to increase fleet size from 11 to 15. We want to activate the 8 e-jet aircraft  ordered from  Embraer and also prepare for hangar construction. Start London and Johannesburg during the first half of 2012.