Two Killed In Nigerian Pub Attack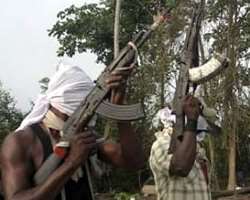 Gunmen have attacked a pub in northeastern Nigeria, killing two people amid a wave of such violence blamed on Islamist group Boko Haram, residents and police said Saturday.

Two gunmen who arrived on a motorbike and opened fire on the open-air pub in the Dandu area in the Adamawa state capital Yola late Friday, also wounding a policeman while fleeing.

"We took two dead bodies of the victims to the hospital last night," local community leader Tijjani Tukur said. "The gunmen arrived in the area and opened fire on people drinking at the open air tavern."

Adamawa state police spokeswoman Altine Daniel confirmed the attack but said only a policeman was injured.

"There was an attack on an outdoor beer joint by some gunmen last night in which a policeman was shot in the leg and is being treated in hospital," Daniel said.

Adamawa has been hit by a series of such attacks in recent days, with much of the violence blamed on Islamist group Boko Haram.

However, the state holds governorship elections on January 2l, with campaign periods often provoking violence in Nigeria.

Yola was also targeted last week when gunmen opened fire on worshippers at a church, killing at least eight people. On Wednesday, gunmen attacked a police station in the city, leaving one officer dead.

Also last week, gunmen opened fire on Christian Igbos at a house in the town of Mubi in Adamawa as they mourned the death of a friend killed in a shooting the night before, leaving 17 dead.

Adamawa was also hit by an attack late Thursday on a Muslim village by a suspected Christian mob from a nearby community which left two dead and several homes and mosques burnt.

A curfew has been declared in Yola and other trouble spots.

Spiralling violence in Nigeria, most of it blamed on Boko Haram, has sparked fears of a wider conflict in a country roughly divided between a mainly Muslim north and predominately Christian south.

AFP.