Nigerians Rally In Los Angeles Over Oil Subsidy Removal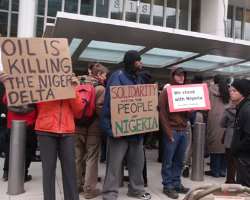 SAN FRANCISCO, January 12, (THEWILL) – Nigerians in Northern California are joining with their country folks in Southern California at a critical-mass solidarity rally on Saturday, January 14 to jointly decry the oil subsidy removal by the Nigerian government of President Goodluck Jonathan.

In a statement, Thursday, the group sent a specific message to Mr. Jonathan, reminding him that "A leader who demands loyalty, but offers nothing in return builds tyranny; and tyranny offers nothing but failure. Empower every citizen, and you will gain strength. Offer security and justice in the form of liberty, allowing every citizen to be safe from conviction without cause or prison without charge - to work, eat, and live on the sweat of his or her own brow – and you will be great. Not only will you receive the loyalty of your people, but their love as well. President Jonathan, this is your chance to be great - don't waste it. Lead from the heart."

Describing the hardship that removal of the oil subsidy removal will bring to the average Nigerian, the Nigerians said the government should:
• Revamp all the refineries and build new ones;
• Provide regular power supply;
• Provide public transportation systems such as railways; and repair the roads;
• Eliminate the corruption associated with supply and distribution of petroleum products in the downstream sector of the oil industry;
• Trim excess wages and entitlements allocated to high government officials;
• Adhere to the rule of law;
• Be transparent, be accountable, govern well; and
• Lead by example; and if anyone has been deemed to have violated any of the laws of the country to be brought to justice without delay.

Saturday's rally, to which all Nigerians and their friends are invited, will hold at10 A.M at: 6430 W Sunset Blvd, Los Angeles, CA 90028-7906 (Near CNN Building).

In a joint statement just release at Abuja, Dr. Jubrin Ibrahim, Director of the Center for Democracy and Development quoted the Federal Labour Minister, as saying on live television that:

"We are Government. As a government, we are not expected to succumb to
people we rule or pander to them. Fuel price increase is final government policy. What the Nigerian Labour Congress should do is come to the roundtable just to discuss its implementation. President Jonathan has directed us as Ministers to immediately reach out to NLC and TUC for a meeting on the implementation of the fuel price increase."
Mr. Ibrahim continued that "This statement by the Federal Minister of Labour, in a Channels TV interview on the 4th January, 2012, is symptomatic of Government's response as Nigerians increasingly pour into the streets to register their disenchantment with how our country is being run. On this third day of our mass action, the protests have covered more and more cities with numbers doubling to over 6 million in Ojota, Kano, Makurdi, Ibafo, Ilaro, Gwagwalada, Lafia, Umuahia, Port Harcourt, Ijebu-Ode, Sagamu, Abuja, Bwari, Kuje, Rubochi, Osogbo, Ilupeju, Badagry, Lokoja, Bauchi, Warri, Owerri, Kaduna, and Ado-Ekiti. We commend Nigerians in the Diaspora who have shown solidarity with those at home by organising massive protests in Ghana, the United Kingdom and Atlanta calling for the unconditional reversal of the pump price of PMS to N65 per litre and commence dialogue with citizens.
We note that the collective voice of our people has been uniformly nonviolent but governments and their agencies have continued with unprovoked use of force and firearms. In Lagos, this undue and wanton use of force on peaceful protesters led to another casualty as the police shot live rounds at protesters. Government's armed soldiers also continued their night raids on the nonviolent OccupyNigeria protesters at 1am this morning at the Freedom Square in Abuja, beating up the citizens and carting away valuables like armed robbers. We urge the Federal and State governments to desist from these acts of violence as they have drawn the ire of protesters in Kaduna, Kano and Minna today. The violence in Minna is particularly troubling because it was triggered by the insensitive remarks made this morning by the Governor of Niger, Babangida Aliyu who dismissed the people with the type of government rhetoric started by Mr. Wogu. The Federal Government has a responsibility to caution those carrying its message of total disregard for the social and economic plight of Nigerians.
Muslim and Christian leaders have shown unity and commitment to resist division along religious and primordial lines, though in certain cities government's agents that have infiltrated the protests and caused destruction of places of worship in order to continue its failed divide-and-rule methods.
We commend NLC/TUC for supporting the people in their quest for dignity and good governance, and restate our commitment to join in leading the people in that quest.
We condemn the use of curfews as part of the government's dictatorial relationship with its peoples as evident in Kano, Niger, Kaduna, Oyo, and Adamawa States. They should take heed that curfews cannot be the solution to the genuine demands of the people for accountability, transparency and good governance.
Finally, as always, we call on Nigerians at home and abroad to remain steadfast in their turnout to fight against oppressive regimes and urge them to continue their unrelenting, simultaneous actions. We urge the people in states where there are curfews to paste in front of their homes placards reading: "REVERT TO N65 PER LITRE". Other Nigerians should continue to turn out and engage with Government. We
need to tell them that this is a democracy: We are citizens, not subjects.
We in the State of California join our countrymen and women in this effort to make live more comfortable for our people, the statement added.