WE'VE ABANDONED OUR RESPONSIBILITIES AS LEADERS -GOV. LAMIDO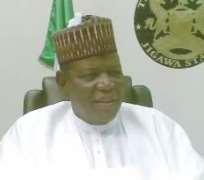 Governor Sule Lamido of Jigawa State has said that the series of crises confronting Nigeria today was a product of leadership failure of the last 20 to 25 years, insisting that Nigerian leaders have all abandoned their responsibilities. He spoke with Daily Sun in Dutse, recently. Excerpts:
Challenges
The biggest challenge any government faces is human development. This is because human beings by nature are very insatiable. When you elevate them to a particular level, they would want to move to another level. So, when you restore a State which was almost grounded, then the expectation becomes high. Therefore, whatever you do, is a further incentive for more to be done, and so it is going to be a continuous thing.
But my dream is to have the best set of human beings in the world -everything near perfect, since only God has that attribute; ideal, everything which commands decency, self esteem and self worth, to be in Jigawa. Whatever we do daily is a further incentive for us to do more and strive for the development of the state.
Leadership succession
In the last 18 years of our existence as a state, Jigawa had been traumatized. While other states were growing, we were not, and we went through a lot of difficulties. Like they say in Hausa, 'we have all either been roasted or cooked.' Everybody is now thoroughly cooked and it is very easy for us to understand where we are coming from and where we are. We have seen the consequences of our indulgence in the past such that the state was literally de-linked from the federation. The state was just about to become a human zoo where you come and see primitive and stone-aged ways of living.
But we now have this common resolve, a united commitment, a feeling of pain in us and embarrassment as a people. That in spite of the way we were endowed by God in terms of good and arable land, good people, strong history, we went on to indulge in self vandalization. It is that new re-awakening and resolve that have united us to rescue the state. Therefore, it is not about Sule Lamido, but a collective agreement of the entire people of the state to build the state.
That is why we are building institutions that will sustain development, institutions that will never allow Jigawa fall again. Institutions that will ensure that the gains of today are totally irreversible. It is this unity that has permeated every part of the state. The issue of the personality of the governor has become diminished, therefore, there is no worry that when somebody called Sule Lamido leaves the office, development of the state will be affected. Lamido is just part of the new re-energized Jigawa.  Never build a state around a personality. If you do, the personality will start to see himself as god and there will be delusion and attempts will be made to personalize and privatize the office.
Why didn't you make provision for security in your budget?
Security, in the real sense is a Federal Government controlled thing. The armed forces, police, customs and other security agencies are normally controlled by the Federal Government. What the state does, is to support and that support is at the local level, through the use of local and village heads, religious leaders, political leaders. The community is policed by the community members. The community does the information dissemination, collation and the reporting. We do the intangible aspect of security. Of course, we support the police to assist them in their operations, we support the customs officers, the military, and we do support all
Federal Government agencies in the state. Of course, as a state, we have mechanisms that will enhance conflict resolution at various levels and also ensure safe and peaceful co-existence of people as well as security of life and property. What we do is not always a conventional form of security, but a kind of support to the security agencies in the state.
New public service
We have in Jigawa, one of the best civil services in the federation. I am not boasting, this is a fact that can be verified.  But then it has to be activated and therefore, training and re-training, attending seminars to enhance capacity, to bring about innovation and creativity in the system, are required. We intend to keep on improving the quality of our workers. In the last two years, state governments have been coming to Jigawa to learn how we do things here. They come to either to learn how we do our fiscal management, monetary management, primary education and healthcare among other sectors. All these sectors have become a model for other states. I am just trying to be modest because it is a reality. By the time we leave government, Jigawa will be a national reference point.
Budget implementation
When I came in five years ago, what I did was to return governance to the people. I made them realize that this government is theirs and not mine and therefore everything you call government, in terms of institutions and structures, are for them.  When you do that, you restore trust, when you restore trust; people not only work for themselves, but for the development of the state. Our civil servants are not just wage earners, but are partners and stakeholders because their education and skills were acquired through our resources about 20 and 30 years ago. That is why you hardly hear about labour issues or industrial action.
When you are able to get these established, basically transparency becomes the order, and due process becomes the philosophy of the government. That is why every year, when we celebrate democracy day in May, we have this tradition of organizing various senior government officials and political office holders, to go on daily basis, beginning from the party chairman, to go on live broadcast and tell the people and remind them about the party, its philosophy, programmes and manifesto. They are reminded and made conscious of our promises and programmes.
The second day, the Speaker of the House, goes to the same live broadcast station to remind the people about the functions of the legislature. The third day, the Secretary to the State Government does the same. The Head of Service also goes on the same live programme to do same, ditto the Commissioners. As they are saying what the government is doing, people in villages are following, and therefore you cannot tell lies.
The purpose of this is to restore that element, which is lacking in governance -trust, which is the missing link in Nigeria's contemporary leadership. Trust is no longer there. People cannot be motivated; they do not believe in each other, because trust is no longer there. With this culture, we are able to engage each other and in so doing, we have created a co-ownership of our government.
That is why whatever we say in the budget, they believe it.  We do not try to go out of our way to take a loan to finance the budget. If it is N50 that we are to spend during a given period, we spend N50. We have what I call customized budget. This contributes to why we always have over 89 percent budget performance every year. In Jigawa, we do not have anything like abandoned project in the last five years.
Bond market
I am a very local man in terms of monetary management. A governor is elected for four years, to govern the state with the accrued resources within the time frame. I am very local, the idea of bringing in any extra thought, in terms of bond, sounds very technical and something really far-fetched. I will rather remain within the standard of my understanding which I call my own local economics, responsibility, local application knowledge of applying funds available to the state and to make sure that it is judiciously utilized for the well being of my people. I came in as governor with a very clear mandate to oversee the affairs of my state within the time frame of my mandate. I will use the money available to me within the time period of my administration and at the end of my tenure, I will not leave any debt or fund for anybody to inherit. It is up to the next governor to use the funds available to him.  I will simply leave a zero account
A zero account? How, why?
Because it is not within my authority to save money for someone that will take over from me. All the monies accrued to the state should be used during my tenure and mandate for the development of the state and for Jigawa people so that by the time anybody takes over from me, he will also utilize whatever he or she makes for the state.
But will you leave liability?
Liability? It all depends on the context you are looking at it. For instance, if I am building a particular road of about 50 kilometres and the time for the completion of that road is 24 months, and I am in my last year as a governor, what I will do is to allocate funds for the project for that period I have left, and by the time the next governor comes in, he will also take over from there. It is actually left for the next person to either continue or terminate the project. I will not in any way, take any decision that will mortgage the authority or impede the capacity of anybody who will succeed me.
What is the debt profile of the state?
We do not owe anybody or any institution in any part of the world or in the country any kobo.
Including the one you inherited?
Look, the one I inherited which I had verified is N3 billion and it is in the 2012 proposed budget and we have been paying. I can decide not to pay. But then we decided that since the projects had been verified, I would pay. However, the governor that took that loan ought to have paid instead of asking me to use funds that accrued to the state under my tenure to service a debt, incurred under his mandate.
The Izalla group
We thank Allah for His mercy.  We thank Allah for bringing together his servants under one umbrella and for re-uniting and reconciling their differences. It is Allah who guides His servants and so it was the work of Allah. I have no hand whatsoever in that.
We only thank Allah for honouring Jigawa and for showing the world that Jigawa is an Island of peace in Nigeria. No matter your thinking, when you come here, you meet a security that is under God. Jigawa is highly honoured to be chosen as a centre of unity by the Izalla people.
The Boko Haram challenge
Leaders across all divide, have in the last 20 to 25 years, abandoned their responsibilities. Be they political leaders, religious leaders or traditional rulers. In the last 20 to 25 years, there is something fundamental that we have abandoned as leaders and naturally, this is the time for harvest. The things ignored, the things abandoned, the failures of leaders to do what is right in the last 25 years has now fully matured into huge crisis. What is happening today in Nigeria (Boko Haram) is not something that was planted in the last 10 years. I mean the refineries, the roads, the health sector and every other sector that seems to have collapsed, are not creations of the last 10 years. It is a systematic abandonment and lack of the conscience to do what is right in our various positions.
We have been too busy (as leaders) serving ourselves. We have been too busy in self indulgence and have abandoned the basic necessities of life of our people.  For example, when I came in as a governor five years ago, the school I attended in 1960 when we were only 30 pupils in the class, with three rows of 10 chairs and desks, with teachers who were like parents to us, with a very conducive environment that had flowers which we used to water. When I went to that same school as a governor in 2007, which was 47 years after, I found 240 pupils in that same classroom which accommodated 30 pupils then. They were seated on the bare floor and some of them hanging on the window like butterfly.
In fact, some of the schools were just like we were in Darfur.  All these decays did not just happen in the last 10 years! The roads all over had become death traps and people die daily. And this is not only in Jigawa. That has been the general pattern of neglect all over Nigeria and that is why there is the crisis of youth unemployment. That is why we have security challenges and the Boko Haram challenge.
That is why today, there is this intense hatred for leaders by our youths.  You could see from their faces, how spiteful they appear and the feeling of disgust they have for their leaders. It is not about Islam, it is not about Christianity or the Igbo, Rivers or Hausa. It is simply the issue of failure by leaders in the last 25 to 30 years which has matured into a full blown crisis. Another thing that is missing in the system is trust and when trust is missing in a system, it is always difficult to ask people to make sacrifices. If you ask people to understand you in terms of policy formulation, they will not because they do not trust you.
PDP cannot be exonerated
You may be right when you said PDP, talking about the Federal Government. But go to the states, people are in PDP, ACN, CPC and other political parties. The local players in states and local governments have been the same people moving from one political party to another. Therefore when Buhari is saying ANPP is made up of rogues and that they have no democracy, who ran on the platform of ANPP in 2003 and 2007? Was it not the same Buhari? Where is he now? CPC!  How was CPC formed? Were they not people from ANPP, PDP, AD and other past political parties with those who are perpetual nomads?
When they fail in one party, they start looking for where to go to.  Somebody who left PDP and maybe he is now a governor in ACN, he will say PDP is a party of rogues. What we are leaving for the younger generations are very negative legacies. If you say PDP has been in place for those years, what about the states that have been interchanging? We must be sincere and honest to ourselves as Nigerians. Our followers should see that trust in us in all we do and say. The lack of trust is part of the fraud that has been compounding our problems in this nation.