THEWILL Exclusive: Labour, FG Secretly Agreed To Scrap Subsidy In 2009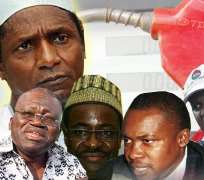 SAN FRANCISCO, January 05, (THEWILL) - If President Umaru Yar'Adua had not died suddenly in office in 2009, the removal of subsidy on petroleum products would have since been concluded because the federal government and the current leadership of the Nigerian Labour Congress (NLC) and the Trade Union Congress (TUC) had agreed to scrap the policy, THEWILL can authoritatively report.
The under-the-radar deal between government and labour leaders which was not made public because of the contentious nature of the issue would have seen government invest in some palliatives which included the deployment of mass transit buses nationwide that labour leaders would have owned and managed under a World Bank assisted loan programme.
Several authoritative sources privy to the deal said both parties were convinced that the removal of subsidy on petroleum products was in the best interest of Nigerians and the nation's economy, as it would stop the corrupt practices of oil officials and their collaborators, while proceeds from the savings would be deployed to fund infrastructural projects.
THEWILL could not confirm if labour leaders were offered any inducements in return for their support.
Former Economic Adviser to President Umaru Yar'Adua, Dr. Tanimu Yakubu, who we gathered was the arrowhead of the federal government's policy successfully sold the removal of subsidy to labour leaders, including current NLC President, Comrade Abdulwahab Omar, NLC Vice President, Comrade Isa Aremu, TUC President, Comrade Peter Esele, and General Secretary, Comrade Owei Lakemfa amongst others.
Edo State Governor, Comrade Adams Oshiomhole, who still wields a huge influence in the labour circle was also privy to the details of the deal, THEWILL was told.
However, what is very strange about the deal is that all those that were part of it on labour's side have refused to speak on the matter publicly. Only Comrade Esele spoke to THEWILL but denied that a deal was made. Instead, he blamed government for refusing to go after the cabal responsible for the thefts and monumental corruption in the petroleum sector. He also blamed government for the shocking New-Year-Day announcement while it was still dialoguing with stakeholders.
The TUC Chairman further posited that when the price of crude crashed to $40 per barrel in the peak of the global recession, the TUC urged government to implement the deregulation policy but the then Minister of State for Petroleum said government had other priorities it wanted to pursue.
But some other activists and social advocates confirmed anonymously that indeed union leaders and the Yar'Adua administration agreed to remove all subsidies on petroleum products and completely deregulate the oil and gas industry.
Edo State Governor, Comrade Adams Oshiomhole in a telephone conversation with THEWILL on Thursday morning acknowledged that there was an agreement between government and labour but declined to go into specifics saying, he was neither a part of government nor the labour organization when the deal was brokered, hence would not want to be dragged into it.
"I think you better direct your query to the federal government and the NLC because I wouldn't want to get involved… By that time I had left the NLC and was not a government functionary…," the Governor told THEWILL publisher, Austyn Ogannah.
Respected lawyer and advocate, Mr. Olisa Agbakogba, SAN, in another phone conversation late Thursday night said government representatives had hinted of a previous agreement between it and labour during the recent consultations with stakeholders.
"I have heard it myself but I don't know whether it is true. In some of the consultations we have heard with government, they (government representatives) have chipped it in saying… 'Labour but you have supported this thing before now!'" Agbakoba said.
Speaking further, Agbakoba blamed government for imposing the policy on Nigerians when consultations had just started on the highly contentious and divisive issue.
"When you impose, you tend to create a wrong perception and that is where the President got it wrong. It was the initial well-meaning posture of the President on the issue that made us even decide to hear him out… but what is baffling is that government has not gone after those people who they know are stealing and sabotaging our oil!," he said.
Several attempts to reach former Minister of State for Petroleum, Mr. Odein Ajumogbia SAN, former Labour and Productivity Minister, Mr. Adetokunbo Kayode SAN and Dr. Dr. Tanimu Yakubu for comments were unsuccessful before going to press.
Labour unions have however insisted that they would not dialogue with government unless the price of petrol is reversed to N65. A countrywide strike has been slated for Monday, January 09, 2011.