I can never arrest my mother — Oby Edozien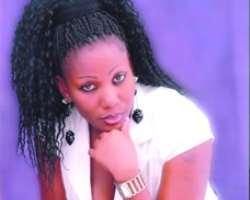 As Oby Edozien is gradually finding her footing back in the movie industry with the production of her two movies in progress; she is hit by a malicious report in a soft sell magazine that her village elders placed a curse on her for daring to arrest her mother over a domestic disagreement. But in this interview with SAMUEL OLATUNJI she denied the story and her mother who was present at the venue of the interview corroborated her.
Where have you been... it's been quite a while?
I've been out of the country shooting my own movie. I flew artistes from Nigeria, my director and the crew members to shoot my movie in London
Who are the crew members?
Emeka Ike, Shola Shobowale, Ronke Ojo, myself and some other foreign actors over there. Then I flew-in Donald Okolie, who is also a producer and he coordinated my production over there and I did the same for my director, Moses Iwang. I am trying to do something positive for the country; I have another story on cancer. I have been keeping away from the press, hoping and praying that when I come home, I will come with something positive and they will see me and reckon with me not knowing that some people are praying for my downfall.
If you read the write-up, you will know that somebody paid for it to dent my image because I came back to this country eight days ago. So apparently, they know I am around to shoot the continuity of the London beat and I am also going to India to shoot. No Nigerian actor has done that. The story line follows, the character has to go to India. It is not just talking about it in the movie that we went to London or you shot some scenes here and go and show a part of London. I am going there for real and these people are trying to tarnish my image. The write-up is really uncalled for and baseless.
Are you saying that you have never arrested your mom?
I have never, ever; not even in my dream. I don't even pray it happens in my dream. What can one's mother do to a person that will make the person call the police to arrest her? Is it done? It is unheard of. If you check the story, all they have been saying is rubbish! I am not too old to say I am running everywhere for a church deliverance. Since I got back from London, I haven't been privileged to attend Sunday services talk less of running around and saying I am looking for a husband. It's really annoying and irritating, saying that elders and villagers have cursed me. It is real non-sense. They also wrote that I've got scandals in Nollywood. Everybody knows I am outspoken and blunt. The only thing they have heard about me is somebody talking about me dating my ex-boyfriend which does not make sense and she even made it a national issue and I don't think we should be talking about it now because it is an old issue. We all should be thinking about moving up, thinking about positive ways not somebody trying to tarnish another person's image because he or she wants to let people know that she's positive. God will definitely put all these people to shame!
Are you saying you and your mom have never had any issue that has to do with police in times past?
Never ; anybody with proof should come out and show us. It was even my mom that bought the paper, she was screaming right from the gate. I didn't even get to see the paper. If anybody is talking, I am going to court and they should be able to explain their source and everybody will hear it. So, I am ready and willing because this is a slight on my personality.
Are you saying that all these things about you in the papers are false?
It is very obvious that it is a lie. When you read the paper, you'll see for yourself that they don't have any point.
What about your village elders; did you have any issues with them?
This is very funny. Do I travel home? When or where would I see elders? I celebrated my father's remembrance, March 2009 and after my father's death I went to the village once then followed by the remembrance. So, where is the connection with village talk and all that? The elders were full of blessings for all of us when we traveled, so where is the curse coming from? And they also alleged that I am running around looking for husband, don't I look good to have guys? It is not about getting married, it is about staying married. Marriage is not a competition; I don't know why they are tarnishing my person. I don't think an editor will just sit in the office and say, let me write this and that if somebody did not pay for it. So, now I am taking them to court. Let them come and prove it and let the public hear it.
They said you and Keyamo dated and parted bitterly or something like that. Is it true?
My dear, I'm suing them. I don't want to talk about anything from that angle. If I am a terrible human being like they said, he won' be helping me. I never dated him. We have been friends and I am his client that is the relationship between us.
So, have you been going to churches seeking deliverance from curses?
My dear, since I got back from London, I haven't attended normal Sunday service, talk of running around and looking for husband. If I want to marry tomorrow because I just want to prove it to everybody, I have somebody waiting. I will get married. But I know what's up; when it is time, I will get married and I am not too old, there are older actresses out there. People that are getting married are much older than me … over six, seven years older. So, all of us must not get married at the same time. I wish everybody getting married a happy married life, long life but let them leave Oby alone. Let nobody envy what I am doing. I don't envy anybody, I am just thinking about myself and my progress.
In the story, they also alleged that you were jealous of your friend that was getting married and you were feeling sad and thinking about when your own will take place…is this true?
My dear, number one, she's older than I am. If she is getting married, I don't see anything wrong in it. Marriage is a thing of joy. That she is getting married should be a big deal to her. It is something that is wonderful and I'm very happy for her. That I just came back some days ago and I heard that she was getting married and I wanted to kill myself, how does that sound? Where is the competition? Is it that I don't have somebody in my life that I have to start running helter-skelter because I am looking for a husband? It does not make sense. Before journalists write, they should try and ask, not write and later try to counter what they have written. They should try and help us because whatever you guys write about us is on the net. They should leave me alone.
So, who do you suspect is behind all these?
I don't suspect anybody. I suspect the devilish mind. Nothing good is going to happen to that person, I believe
What is your next line of action?
It is just the court. I can't beat up the editor of that paper. Left for me, I will knock his head on the wall and throw him in the gutter and vent my anger against him, but I have to follow due process. I have gone to my lawyer and I will let him handle it.
When will your production be ready?
By the grace of God, it should be ready before February.
What should people expect from your movies, should we expect to see them in cinemas like every other film?
Yes. First, you see the premier, then you'll see the movies at the cinemas and you'll see them in your homes. It is a movie on cancer. Cancer is killing people. It is eating most people up. If money can cure cancer, most people wouldn't die. It is a message and a lesson that most people should learn from. Most people will learn something from it. They will learn to go for check-up regularly and so many other things. It is good story-line, I don't want to go deep into it, let me save it for the viewers to talk about it.
Which locations have you been to?
I have been to London, I am here in Nigeria and I am going to India for the final shooting.
Who are in the cast?
The one in London, I used Emeka Ike, Shola Shobowale, Ronke Ojo, myself and some white actors. In Nigeria here, possibly, I will be working with Kenneth Okonkwo, Bob Emmanuel, Franca Brown, and Ngozi Izuonu. It is the continuation of both movies. At least in a scene, you will probably see a guest artiste . The cancer movie has got loads of stars in it and I'm using the Ghanaian artiste, Jackie Appiah.
Aside movies, what has been keeping you busy?
I have my own company Oby Concept. I deal with other things. I have a production company. I am not just sitting down and waiting on movies alone.
Story by http://nollywoodgists.com