Sam Loco Visits The Gambia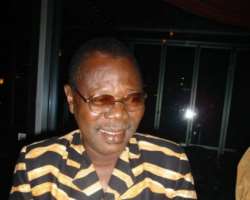 Sam Loco Efe, one of the leading and pioneering members of Nigeria's Nollywood, is currently in The Gambia and has disclosed that during his short stay in the county, he has discovered young talents that can make headway in the movie industry if giving the necessary support.
He then called on the authorities to open up for the development of the movie industry in the country. The industry, he said, will go a long was in uplifting the image of the country, as well as creating employment for many youngsters.
In an exclusive interview with What's On last Monday, the Nigerian actor, who has been in the movie industry for years, added that before recent developments, nobody had thought The Gambia would win anything in football. "They hosted the under 17 African tournament and won and currently, they are the African champions. So give a chance to chance," he said, while commending President Jammeh for his development efforts in transforming the country.
He appealed to the president of The Gambia, Sheikh Professor Dr Alhaji Yahya Jammeh, to help the industry. The Nigerian star is in town for the 2009 edition of the "Top Model of Colour' competition scheduled to take place on December 5th, at the prestigious Senegambia Beach Hotel. Organized by FABECS Promotions in collaboration with Mahogany Productions, the upcoming event is billed as one of the UK's biggest modelling competition, featuring about 40 models from all over the globe.
The well known comedian also spoke about the need to keep up the collaboration between The Gambia's budding industry and Nollywood. He likened the impact of the Nigerian movie industry to Mohammed Ali taking the boxing world by storm. He also pointed out Ghana and Sierra Leone as example of countries whose movie industries are beginning to make a global impact and advised those in the Gambian industry to keep working hard and they would get to the same point.
Story by http://nollywoodgists.com