The Gifts Of Capricorn.... CELEBRATING A PRINCE AND A KING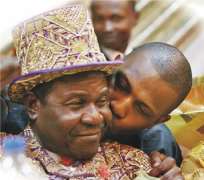 The astrological Zodiac consists of 12 sun signs, which adherents believe govern human fate. Capricorn is the tenth sign—and one of the Zodiac's four cardinal symbols. It lies in the constellation Capricornus: Where the Sun arrives at roughly December 22nd(the winter solstice) and leaves around January 20th. Individuals born during this period are dubbed "Capricorns".
So here we have it: A father and his son, a King and a Prince, born under this Sun sign, on the same day. Both King T.J.T Princewill (Amachree XI), The Amanyanabo of the Kalabari Kingdom, and Prince Tonye Princewill, a premier politician in Rivers State, are Capricorns; and both have birthdays on January 4th.
Believers in astrology will read one meaning into this extraordinary coincident, while those with a religious bent may derive another. I too find the shared astrological traitsof father and son and the timing of their birth, so close to that of another revered Capricorn, highly evocative.
True, these synchronous births are a mere accident. Nevertheless, this unique anniversary is an inspiring and apt occasion to celebrate two important personages, with whom I am professionally involved.
Over the past five years, their warm embrace has made my work, as a publicist, more of an adventure than a job. They seem more like hosts than employers.
Hence I have penned this panegyric, capitalizing on the season, with its astrological and religious symbolism, to express my appreciation.
Astrologically, they say, Capricorn is all about hard work. Those born under this sign happily put in extra hours—aware that this will get them to the top.
Life is one big project for these folks, who are dedicated to reaching their goals. They are practical and methodical, tackling tasks one step at a time.
Scholars differ on the birth date of Jesus Christ. But Christian tradition holds that the Messiah arrived on December 25th—making Him a Capricorn.
Accordingly, our own Capricorns, a father and his sole offspring, share a Sun sign with the King of Kings, himself an only son!
Before I proceed with this paean though, be apprised that the celebrants are earthly beings from Buguma in Asari Toru Local Government Area (L.G.A.), Kalabari territory!
Kalabari is an Ijaw-speaking kingdom, consisting of 33 communities' in the Akuku-Toru, Degema and Asari-Toru L.G.A.s, with Buguma as the capital.
The Amachree lineage started with "Amakiri I" (Amachree I) in 1770, although the kingship itself dates back at least to the 1600s.
The Kingdom has not been the same, since Professor Theophilus JacobTom Princewill's coronation on March 23, 2002.
Academically, Princewill's climb to the peak commenced in 1935, at Buguma's famous Baptist School. He was just five—the youngest ever to enrol.
Wielding a Ph. D. in Microbiology, from Leeds University, England (1975), Princewill won acclaim in his field, publishing over 30 articles in scientific Journals, between 1965 and 1988!
A socially committed King, the Amanyanabo is striving to alleviate poverty and restiveness through his Amachree XI Scholarship Scheme, now in its third edition.
During a ceremony at Buguma last June, The King handed over N5, 100,000to the project Coordinator, as financial support for 94 students from Rivers State's 23 L.G.A.s.
The Amachree XI Scheme uniquely applies to all L.G.A.s, irrespective of ethnicity and targets the highly strategic disciplines of Law, Engineering, Agriculture, Medicine, Environmental Science and Computer Science.
Intriguingly, the project is now a father-son affair—after the timely intervention of Prince Tonye Princewill's River Drill Group. This enabled the Scheme to add 44 new beneficiaries to the original 50 of the first edition.
Amachree XI, despite his age, eagerly answers the call of duty. He is Chairman of the Rivers State Council of Traditional Rulers and has sat on the state's Advisory Council (1999-2007) as well as its seminal Peace and Reconciliation Committee (2006 to 2007).
This civic mindedness has earned him many accolades and awards, including the Grass Roots Royal Father Of The Year--presented during an epochal ceremony at Buguma City in 2007 by Silver Doors Concept Initiatives.
In the words of Alabo Opuda G. Batubo, Kariboye-Batubo V1, the Chief Prince of Batubo Group of Houses, "There are Kings and there are Kings". It is not sitting on the throne that matters, he said, "but being endowed with the wisdom to lead".
A leader of Kings, the Amanyanabo is a fierce defender of Kalabari traditions and an ardent exponent of a constitutionally defined role for traditional rulers.
The Oba of Benin's comment, during an Ahmadou Bello University commencement in the1980s, comes to mind.
With Sam Nujoma, then a guerilla leader, seated on the dais, the Oba said, "I too am a freedom fighter, struggling to liberate tradition from the clutches of modernity". This, I believe, reflects the spirit, if not the letter, of the King's convictions.
As a leader, the King has, as Silver Doors put it, "a high sustainability performance index"-- based on the social impact of his decisions and actions within the Kalabari Kingdom.
No wonder President Goodluck Jonathan conferred on him, the title of the Commander of the Federal Republic (CFR)—a title meant only for Nigeria's best.
King Princewill has, therefore, reached the pinnacle in both his personal and professional life: Superbly confirming his postulated status as a Capricorn par excellence.
Now, to Prince Tonye Princewill: The sole sustaining link in the lineage of the renowned Amachree dynasty. Bred as an aristocrat, with the gift of conversation and oratory, his persona affirms the wisdom of the old folk-saying, "Like Father, Like Son".
Status aside, the Prince is hard working and enterprising. He has kicked and clawed his way upward, in true Capricorn fashion.
Friends and associates call him the "Eagle"; but his father prefers the "Rock".—a sobriquet which, the King believes, is more reflective of his son's character.
By whatever name, the son is the Chief Executive Officer of Riverdrill Group Limited, a philanthropist, a former Action Congress (AC) gubernatorial candidate and leader of Princewill Political Associated (PPA).
Princewill read Petroleum Engineering at the University of Port Harcourt, and also holds a second engineering degree from Imperial College, London.
"TP," as his admirers call him, has holdings that encompass ICT, gas and oil, the aviation industry and the haulage of petroleum products.
River Drill has just concluded agreements with several foreign and domestic investors, who will tap the State's resources to create additional jobs for our youth.
The Prince is manifestly cosmopolitan. His multi-ethnic staffs include individuals from the north, south, east and west.
In fact, his comely wife, Rosemary, hails from Uromi in Edo State. Theyare the proud parents of twin boys, Teetee (Tamunotonye) and Teepee (Tamunopriye).
In a very short time, this Son of Kalabari has muscled his way into prominence on the rugged and highly volatile political terrain of Rivers state.
After his gubernatorial bid, Princewill joined forces with Governor Rotimi Amaechi, in a strategic partnership, now hailed as a model of constructive opposition.
Presently, TP is the youngest person on the 29-member Economic Advisory Council, which counsels the state on investment and fiscal prudence.
He became Investment Consultant to the Rivers State Government in 2007and has since attracted capital, valued at over Fifty Billion Naira (N50bn).
TP's dynamism and sagacity has seen his political star rising on the national horizon as well—as evinced in appointments to the Presidential Technical Committee on the Niger Delta and the Niger Delta Subcommittee of Vision 2020, which he chaired.
Guiding the Prince's activism, are deeply felt convictions and principles: Hence his dramatic resignation from the Vision2020 Committee, to protest a military assault on Gbaramatu, in Delta State.
Such principled politics has made Prince Tonye Princewill a brand name in the Niger Delta struggle and earned him legions of awards--attesting to his emergence as an important leader.
Florence Kalia, National President of National Association of Ijaw Female Students, spoke thusly, while presenting the Prince with a plaque: "Though of royal blood, you have chosen to see events unfold with the eyes of a leader and not as a ruler".
The Quantum Business School likewise proffered on TP their "Exemplary Leadership award" in 2011, while the Niger Delta Achievers Merit Award Committee declared him the "Most Celebrated Personality in the Niger Delta".
Prince Tonye Princewill belongs to a new breed of young politicians, whose true nature and worth cannot, at this early stage, be fully ascertained.
Despite my close interaction with TP and his colleagues, over the past few years, for example, I am nowhere near a credible boast, that I comprehend this new breed.
So I must, perforce, turn to insiders, such as the Hon. Dakuku Peterside, Chairman of the Upstream Subcommittee of the House of Representatives Committee On Petroleum Resources.
The Prince, he said,: "… is among a new generation of patriotic politicians desirous of rendering quality service to the people…
"He has further shown, like others in this group, that there is no relationship between age and wisdom".
Commemorating the Prince's 40thbirthday, Comrade Cletus Obun, Chairman of the State Conference of Nigerian Political Parties, (CNPP), observed that, "the qualities of…humility and charity stand out...He has woven a fabric from these two virtues".
These "virtues" find expression in Tonye Princewill's progressive social views and political orientation.
"I have seen wealth," he allows, "but I have not found its accumulation very rewarding, emotionally. Of much greater interest to me now, is how to touch the lives of those who are not yet privileged to have the basic things they need for survival…
"I want to be able to speak for the voiceless majority, who do not have access to the corridors of power. Those are the people I feel most concerned for…My desire to make their voices heard…, is what brought me into politics".
On His vision: "Rivers state should be one big development unit. I don't think that what we have now in the State is enough. Certain parts of the state are not yet feeling the impact of government and amenities are not evenly spread. While some areas are begging for the state government attention, others are having more than their fair share of the state's resources. This lopsidedness in the distribution of social amenities needs to be checked so that every part of the state would be adequately taken care of".
Philanthropists par excellence, the Princewills believe strongly in education as an effective instrument for alleviating poverty and restiveness among youth. This is the guiding philosophy of the Amachree XI Scholarship Scheme, which is now in its third edition--after a forced hiatus, from 2003-2004, due to conditions in the country at that time. During the second edition ceremony of the Scholarship Scheme at Buguma last June, The Amanyanabo handed over N5, 100,000 to the project Coordinator, as financial support for 94 students from Rivers State's 23 L.G.A.s. Other Scholarship schemes abound. But Amachree XIis uniquely meritorious. First, it applies to all L.G.A.s, irrespective of ethnicity; and it targets the highly strategic disciplines of Law, Engineering, Agriculture, Medicine, Environmental Science and Computer Science.
Secondly, the project is now a father-son affair. It was Prince Tonye Princewill's timely intervention, through his Riverdrill Group, that enabled the Scheme to add 44 new beneficiaries to the original 50 of the first edition. That The Amanyanabo has reared a son of this stature—one who is now a philanthropist in his own right--is a powerful testimony to the importance of good parenting. It attests to the efficacy of education, hard work, sound moral values and stable, male-headed families. These are important survival values, in which most Nigerians believe. As a repository of these common values, Princewill is everybody's King. He is a potent ancestral symbol and a Patriarch I proudly claim as Father.

To the Amayanabo on his son, "I am proud of what he has achieved in politics so far. He has impressed me and I am happy when people speak so positively of his remarkable feats. It makes me proud that my young son has turned himself into a great politician at such a tender age. This does not in any way erase my fears about his security knowing that a lot of people will not be happy with what he has achieved. Politics in this country is still being played by wicked people who see it as a do or die affair, contrary to my son's politics of ideas and issues.

Every father's prayer is that his child be greater than himself. Today, not minding my status, academic achievements and my stool as the King of one of the greatest tribes in Nigeria, I may not enter some places Tonye has entered, and that is just a fact. In other words, he has taken the family name to faraway places that I could not imagine. I thank God for giving me such a son.
I will still plead with him to be cautious and calm and watch those he works with as wicked people still abound in politics. My prayer is that he lives longer than I so that he can achieve fully his political aspirations. As much as I praise him for the great successes he has recorded in politics, I must state that anybody venturing into a big time politics must have full background knowledge of his people. As the crown Prince of the Kalabari kingdom, he should find enough time to study the culture and ways of life of his people. In this regard, I have encouraged him to take a chieftaincy title in the kingdom. This I believe will strengthen his political endeavours".

It becomes obvious that Franklin .D. Roosevelt, a former president of the United States of America, an orator and philosopher of great acclaim, had the likes of the Princewills in mind when he wrote: "The test of our progress is not whether we add more to the abundance of those who have much; it is whether we provide enough for those who have little." Holding tenaciously to this eternal verity, TP as he is called by admirers, believes that a leader should be a public servant, who strives relentlessly to put smiles on the faces of his followers without placing undue emphasis on their social status or dashing the hopes of the poor masses".
As these two great people celebrates their birthdays come 4th January, 2012, it is my prayer and wish that God grant them more years for service to mankind.
Eze Chukwuemeka Eze is a Media Consultant and Political Strategist based in Port Harcourt
Disclaimer:

"The views/contents expressed in this article are the sole responsibility of

Eze Chukwuemeka Eze

and do not necessarily reflect those of The Nigerian Voice. The Nigerian Voice will not be responsible or liable for any inaccurate or incorrect statements contained in this article."
Articles by Eze Chukwuemeka Eze