BOKO HARAM REPUBLIC; WHY NOT?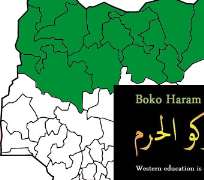 The increasing tensions occasioned by the Christmas bombings by Boko Haram and the multiple condemnations by well meaning Nigerians ,International Community and the Church is one thing, containing the scourge is another. From my security analysis It will take about three years before the Nigerian security apparatus will be able to contain this malaise . I will adduce the reasons in another piece. However I advice President Goodluck to be careful with the Boko Haram dream. General Aguiyi Ironsi then Head of State wanted to kill the earlier Northern seccessionist dream and unify the country and he was murdered in the process.
Ojukwu seeing the fate of Aguiyi Ironsi then wanted to seccede and Gowon killed three million people to crush the seccessionist dream. The dream of the Niger Delta for self determination was crushed with the murder of Adaka Boro. All they do in Nigeria is kill the aspirations of people. Let Boko Haram Republic OF Borno-Yobe or of Northern Nigeria be and let the rest of Nigeria live in peace. President Goodluck should not follow the footsteps of Gowon.
If the Core North wants Sharia , let them have Sharia. If they want only Islamic education , let them have it. If they prefer mud houses to marble house, whats your business. If they prefer carmels to vehicles , whats wrong with it. If they want to marry four wives and you are contented with one , let them be. This process of stifling peoples desires is enough in Nigeria. Gowon did it to Biafra and killed a dream that would have turned an African nation to a world power and set the pace for the rest of Africa. Today Nigeria is wallowing in corruption, poverty and blood spilling as a result. Every ill biafra suffered during the war, Nigeria is suffering it now. That is what happens when peoples dreams are gagged. Boko Haram should not be an exception.
Government has two social options to contain the Boko Haram scourge. Government should initiate a fence mending with Muhammadu Buhari, the main opponent in the just concluded presidential elections. There is no doubt that Obasanjo robbed this man of electoral victory twice in 2003 and 2007. In 2011 General Buhari was able to garner 12million votes in an election that was far from perfect. A man that has 12 million electoral followership in a is a leader to reckon with. I ve made this analysis in an earler piece " Buhari, jonathan and boko haram". For now Buhari is the leader of the core-North in the eyes of the northern masses and middle class. Northern thieving elites loathe him for his popularity that has refused to wane since he entered the political scene. He can checkmate any ideology in the North that gets out of hand just as Ojukwu would have checkmated any youth excesses in the South East getting out of control if he were to be alive. For Buhari to do so He must be respectfully approached and some of the electoral injustices against him be compensated.
If government is not comfortable with this option due to politics of succession then let there be a referendum in the areas of the core North where the Boko Haram has some measure of appeal . Le there be a simple yes/no vote on Boko Haram. Those that wants to be citizens in a new republic of Boko Baram should indicate a 'yes ' while those against should indicate a 'no.' A period of six months should be given for the proponents and opponents of Boko Haram ideology to come forward with their reasons and arguments without any intimidation. A robust social debate. At the end of the period let the people of the North decide what they want and where they want to belong. For a yes/no vote to be implemented there must be a seventy percent majority (70%) in the state or senatorial zones affected.
If the proponents of Boko Haram were able to get seventy percent then let the affected areas should be excised fron the rest of Nigeria within a transition period of one year where institutions of governance including presidential elections will be organized for them. Any other Nigerian unwilling to belong to Boko Haram Republic in the affected area should be resettled in Nigeria . If on the other hand opponents of Boko Haram fail to get up to seventy percent votes then they will explain who they are fighting for. The moral booster for their battles would have been removed and core north will join in the battle to rid their area of the menace.
Let the two states co-exists and time will tell whether Boko Haram ideology is superior to the secular Nigerian ideology or not. If federal Republic of Nigeria after a period of years continues to wallow in poverty, corruption, maladministration, insecurity and social injustice and Boko Haram Republic were able to create a state of respect for rule of law, transparency, justice, prosperity and peace I wouldn,t mind applying for resident visa to live in Boko Haram republic of Borno-Yobe or Boko Haram Republic of Northern Nigeria
Written by Obinna akukwe, a financial/IT consultant.
Disclaimer:

"The views/contents expressed in this article are the sole responsibility of

thewillnigeria.com

and do not necessarily reflect those of The Nigerian Voice. The Nigerian Voice will not be responsible or liable for any inaccurate or incorrect statements contained in this article."
Articles by thewillnigeria.com