A SHOWCASE OF AFRICAN CULTURE THROUGH FASHION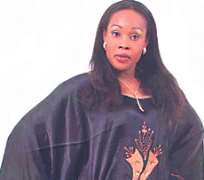 African fashion was again on display recently at the Expo Hall of Eko Hotel and Suites. The designs were showcased by RaviSSant Mode Fashion, a fashion label that promotes African culture through fashion. Princess Latifat Lamoliate, the Managing Director and Chief Executive Officer, RaviSSant Mode, says she is a designer with special interest in African fashion. She makes stylish and classy designs with Nigerian fabrics to meet today's style demands.
Each designs of glamorous adire, aso oke and dainty organza exhibited at the show told a story of creativity, ingenuity and expertise. 'To please my clients, I do both African inspired styles and Western/English styles. A lot of time I mix them to show creativity. I must confess that I love to work with the Nigerian fabrics. I make my designs and produce good quality. I work very hard to ensure I make a statement with every piece I produce. My outfit must reflect the name Ravissant (Ravishing)', the Edo princess said.
She works a lot with adire and makes fantastic designs with them. 'I make ball gowns out of them, even casuals and wedding gowns. For my wedding gowns I use ethnic fabrics and sometimes bridal satin depending on what the bride wants'.
Her designs are unisex. She also designs for Hollywood stars such as Miriam Brown and Courney Black, Comedian and actresses.
Princess Lamoliate not only promotes African fashion, she also promotes the African culture through dance. Before she showcases any outfit, her dance troupe, RaviSSant Dance Company, would first of all trill the crowd with some performance, which is usually African. 'Culture for me is an element of construction of real and sustainable human relation. I am promoting the Nigerian and African culture because I am proud to say to the outside world, this is what we have got in Nigeria, this is Africa and Africa is beautiful'.