CAN WARNS OF REPRISAL ATTACK ON BOKO HARAM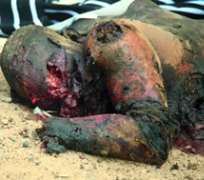 Christian Association of Nigeria, (CAN), South-east geopolitical zone, yesterday condemned the recent bomb blast in Yobe, Niger, Plateau and other parts of the country, masterminded by the sect Boko Haram during the Christmas Day celebration.
In a press statement, the Secretary General of the association, Dr. Joseph Ajujungwa called on President Goodluck Jonathan and security agencies to respond swiftly to the security challenges facing the nation and warned that if such was not done, Christians and other religious groups would be left with no other option than to carry out reprisal attacks on the Islamic sect.
He stressed that the incessant killing of innocent lives, especially Christians across the nation must stop, adding that the association would no longer fold its arms and watch some group of miscreants unleash mayhem on Nigerians.
According to the CAN secretary, the impact and consequences of the myriads of bomb blasts in different states do not portray Nigeria in a good light, especially in the league of nations.
'We condemn the bombing on the Xmas day and call for government's quick intervention to avoid reprisal attacks. We are not happy over the incessant bombings by Boko Haram sect.'CAN South-east zone will not continue to watch our members die like goats every day. We call on the government of President Good luck Jonathan to act fast, else, we shall defend ourselves by ourselves.