Head Of Syria Monitors: Homs Situation 'Reassuring So Far'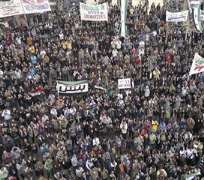 The head of the Arab League delegation investigating if Syria is keeping its promise to implement a peace plan said on Wednesday the situation in the flashpoint city of Homs was "reassuring so far."
"The situation seemed reassuring so far," Sudanese General Mustafa Dabi told Reuters by telephone.
"Yesterday was quiet and there were no clashes. We did not see tanks but we did see some armored vehicles. But remember this was only the first day and it will need investigation. We have 20 people who will be there for a long time."
REUTERS