Karen Igho: Are Lagos guys not up to the task?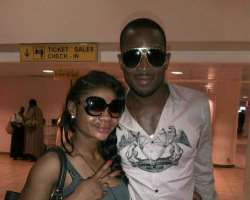 Who is following Karen Igho on twitter? That chic so crack us up. But seriously, we all talk about what we need next in life and even though we might laugh about it, at the end we still meant it.
She's been on 'I will never forget this year, 2011', yeah right! BBA was good, brought the fame and what have you, lol.
Here's her last tweet: Santa I have been good dis year lol any goodies for me??
Then people tweeted at her, guessing what her goodies might be. Obviously no one guessed right.
Then she tweeted again: Goodies asin I mean boyfriend or husband lol
Lawd have mercy. Hehehe. But this is a serious issue. All you guys day dreaming about giving her the diamond ring, where are you at? Sit down there, until one South African guy who isn't up to your toes, steals her away. This babe is too hot to be left alone. Throw up those freaking fake lives and be a man. Stop the mummy's boy attitude. Abi kuku just trended that part, Lolu Shodehinde on his way… what about you?