DAY 'MAMA NIGERIA,' OKONJO-IWEALA, CONNECTED WITH NIGERIANS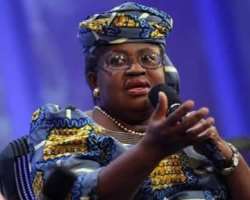 FINANCE MINISTER, NGOZI OKONJO-IWEALA
She was what happened at that event, Ngozi Okonjo-Iweala. She is the Finance Minister, and she headed Team Government to the event where government officials engaged with Nigerians - at community level. The Town Hall Meeting held in Lagos. Newspapers Proprietors Association of Nigeria, NPAN, organized the event and they had titled it: Petroleum Subsidy Removal: In Whose Interest?
It was a forum in which the natural friends of government and anti-government forces were represented. Petroleum Affairs Ministers, Diezani Allison Madueke, was on ground, and so was the Central Bank Governor, Sanusi Lamido Sanusi. And there was Adams Oshiomole, the Edo State Governor, Olisa Agbakoba, and Isa Aremu for the Labour Congress. Getting the government to connect with Nigerians over the deregulation subsidy removal issue has always been a problem, a baffling thing considering the fact that the current administration brought into its structure former editors and public opinion moulders especially from the media. Nigerians have seen their officials gather in high profile settings, speaking 'big grammar' but never for once come down to their level and speak to them man-to-man in the language they understand, in the words that can better inform them of what their government means by petroleum subsidy removal.
Yes, citizens knew petrol would be sold at higher prices ultimately, that transport fares would go up, prices of foodstuff would hit the sky, and nonsense would be made of the Eighteen thousand naira wage increase that labour got lately. Nigerians also knew that their government would not inform them as to when the policy would take effect, but that it would keep it to its breast till whenever some officials suddenly woke up on another side of the bed one day to announce that subsidy was gone, finally. But that is all that Nigerians know. It is like government officials are afraid to step out and do what rational thinking governments doe – go to the street and speak street language. Everyone stays in the cocoon of their offices and cars, waiting for Nigerians to understand what no one has truly engaged them to understand, in that sense of the word. It is that jinx newspaper proprietors break with the town hall meeting.
Known personalities from the oil and gas sector, banking, and manufacturers of essential commodities were present at the occasion. They sat in the front seats, other citizens behind them, and they all faced a panel of discussants that was moderated by NPAN Chairman, Nduka Obaigbena. The position of organized labour has always been known, and Isa Aremu further articulated it. To him, the fear of Nigerian Labour is that removal of subsidy – if subsidy indeed exists - will further impoverish its members, while the fund gathered from the process will end up in the pockets of a few, and that, if the structures that manage the nation's oil industry remain the way they are. Agbakoba asked to what uses removed subsidy be put. Oshiomole would support any move which might ensure that what went into the pockets of a few was used in creating more jobs for members of his constituency - Labour. Femi Falana was remarkable for the characteristic passion he displayed, faulting as usual, a system that no Nigerian believes in anymore. Allison Madueke enumerated the items that would benefit from the subsidy removed, and those items, she said, would benefit other sectors of the economy. Sanusi did not see why any rational thinking person, seeing that so much goes into the pockets of the few, would not support removal of subsidy. And Okonjo-Iweala expectedly, matched figures to the topic under discussion.
Questions and contributions came from the audience. Some wondered why removal of subsidy can not come in phases; why the government cannot tell Nigerians exactly when subsidy will be removed, and why those who perpetrated the ruin that has become the lot of the nation's petroleum refineries still roam the streets. Everyone, however, said it was obvious that participants who were from different backgrounds, and who had differing mentalities had one thing in common - their love, their passion for Nigeria; a Nigeria that works. It didn't matter on which side those who contributed were, it was agreed, what mattered was that an avenue was created that allowed Nigerians to say it the way they saw it, and that the forum had provided the opportunities to rub minds. It was also the consensus that what everyone wanted was governance, good governance that looked after the interest of the majority, and one that catered for the poor. They also wanted the kind of governance that shows action, one that takes action; action now, not tomorrow. This is what can make the citizens believe in Jonathan administration that promises a transformed Nigeria, everyone said.
Significantly, she spoke the kind of language that citizens at the meeting could relate with, Okonjo-Iweala; and it was not much about what she said but the way she said it. Imagine a mother in the village, and remember the minister dresses like the natural African woman, then note the expression on her face that shows the level of her feelings for her children who have just expressed their worries. That is the picture of this woman on the day she led the government team to talk with Nigerians, at their own level. She had stood up, and with a mien, a carriage that showed she felt the pains of many said, "I saw Falana as he banged his hand on the podium and I thought that could have been me." That was said with a voice that showed a mother, a mother that was really concerned for her children. Nigerians spoke, she listened, she took note, and when she reacted, she said "That's exactly what I am saying, too." And what was the minister saying. She said she agreed with Nigerians that things could not continue the same old way; that a few, a cabal, cannot not continue to take what belongs to every Nigerian, that what a few do to congest the ports, thereby forcing importers to increase prices of goods has been stopped, and those who may be found to have taken what does not belong to them either at the pension office or in any government Ministry will be handed over to the anti-graft commission. She said those simple things in so simple a language that Nigerian had not heard from a government official for a long while. And she said it the way she had always been known to say it, that she wouldn't condone wastage of resources, that no government official would be allowed to get away with corrupt acts; she said all of this the same way she stood before a House of Representative Committee on Power Probe in 2008 and said she came all the way from her office in the US to testify, because she too was interested in knowing why some sixteen billion naira was allocated to turn around the power sector, yet there was no power.
Many nodded in the hall of the meeting as the minister said she knew what it meant for fellow Nigerians to have been so disappointed by their successive governments over the years. But she said that the time to change things has come, and like Allison-Madueke, she pleaded with Nigerians to give the administration a chance. Okonjo-Iweala had left her seat that time, and she walked almost to the edge of the platform, the mien on her face that of a mother who wanted to reassure her children in everyway possible that everything would be alright, that things would surely be better, and that the administration would look after their welfare. Nigerians nodded to her pleas, that time, because they knew when a mother meant what she said. And they must have walked away with the reassurance that at least a few are in government who feel for them.
Perhaps, it is instructive to recollect that this woman walked away the last time another administration tried to rub her nose in mud. Nigerians can only hope some politicians somewhere would not be allowed by the presidency to prevent her, as the head of the Government Economic Team, from carrying out the reform for which she purposely returned to her country from the World Bank.
Tunji Ajibade is a Communications Consultant. [email protected]
Disclaimer:

"The views/contents expressed in this article are the sole responsibility of the author(s) and do not necessarily reflect those of The Nigerian Voice. The Nigerian Voice will not be responsible or liable for any inaccurate or incorrect statements contained in this article."
Articles by thewillnigeria.com