REDEFINING OUR SPORTS AGENDA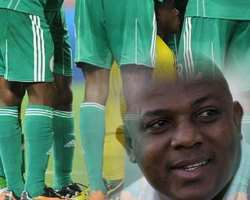 There's an old lie making the rounds daily, that football is the only thing that unites Nigerians. Football is tied to our souls. Many companies use it as a huge public relations gimmick to make handsome turnover on investments. Tied to this erroneous belief, government has continued to invest massively in football, perhaps just to sustain the belief that we need it to survive as a nation. And each time we have failed to either qualify or win laurels at international competitions, the nation does not disintegrate; neither does that failure in any way make us united. All that that failure guarantees is a commonality of grief, collective heartbreak and an eventual call for the heads of the men and women who led us to that failure. Curiously however, we have all observed failures in power supply, failures in construction of good roads, and there are failures everywhere which curiously do not translate in the sack of the men and women responsible for these failures.
I belong to the school of thought that avers that football has an over bloated ego in this country of ours. I do not believe that football engenders unity, or subscribe to the wishy-washy thinking that football unites us. Rather, football has moved us further and farther into that negative perception that most nations hold us – they say oh, here is this very well endowed country that hardly produces much – even the players they parade are all brought up and were trained overseas. And even at that, they are unable to harness the vast human and material resources available to them.
I have already said that I do not believe in football as an emulsifying factor for national unity. What I do believe in, is in non-football sports, NFS – recall that in ten years, Nigeria has not won any major or minor football competition. As contradistinction however, it was in that same decade that Samuel Peters clinched the boxing world title which he eventually lost; it was in that decade that a Chukwumerije clinched a silver medal for Nigeria. There are lots more.
This belief in NFS as a better way to massage our ego did not come from China. But China adopts the NFS idea. China is the second largest economy in the world and is the largest in Asia. The Chinese know the role sports (not football) play in building a nation's character and prestige. They also know that the football field of the world is a saturated one. So what have they done? They looked around for sports that build the individual and which at the same time project a national identity – sports like table tennis, gymnastics, hockey and the rest. If you watch a Chinese player play table tennis or flick back and forth in their gymnastics, you get a feel of a people who compete as if their lives are at stake. And you know what? Sports as these costs far less, compared to football where you need twenty two players, their technical crew and management staff.
But I am convinced that we will allow our egomania to subsist, and still put our sports eggs in only the football basket. Well then, if that is the case, will sacking of a failed local coach be the answer to the only problem which football has? We have hired and fired so many coaches, the local and the international, to the extent that we should begin to realize that sacking is not always the best option. The answer, with all due respect, is first to withdraw from these international competitions for a while. I know there's someone somewhere asking for my head for deigning to make this outlandish suggestion, as if I am asking for our so-called tool of unity to go on a sabbatical. But yes, this is not the first time nations would hibernate or embark on what history refers to as a splendid isolation.
While we withdraw, we should spend time investing massively in our local league. This was where people like Nwankwo Kanu, JJ Okocha and Daniel Amokachi came from. Investing in our local league means that if people like Osazee Odemwingie give us the cold shoulder, we would not fret. Other leagues elsewhere in the world were where the Kakas, the Agueros, the Messis and the Rooneys of football were bred. The club sides did not produce them – the local leagues of the home countries was where these players were first discovered and the growth to stardom took place overseas much afterwards. We all know that grooming our own stars here will break the overly Nigerian attitude of loving what is foreign.
So, having a Keshi, with all of his pedigree as an international coach may not avail much. The emphasis today is not on reclaiming past or lost glory, but is on seeking new frontiers with which to establish our identity as a people. That is why we must divest from football, and balance the equation with other non-football sports, NFS. We must develop the local league and we must withdraw from all these international football competitions, for a while. And last, let us stop peddling that cliché, - that football is the only thing that unites this country – it is not football. It is oil.
** Bob MajiriOghene, author of Deep Sighs and Tears for a Birthday, lives in Abuja.
Disclaimer:

"The views/contents expressed in this article are the sole responsibility of the author(s) and do not necessarily reflect those of The Nigerian Voice. The Nigerian Voice will not be responsible or liable for any inaccurate or incorrect statements contained in this article."
Articles by thewillnigeria.com