HOW I SHOT D'BANJ'S MR.ENDOWED REMIX-SESAN OGUNRO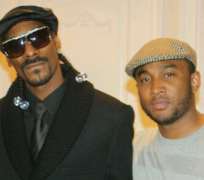 Sesan Ogunro is a UK-based 3D Animator and Music Video Producer and one of the brains behind one of the hottest music videos at the moment,MR.Endowed Remix.
He's a talented 3D Animator who has done several international commercials,and he has also shot award-winning videos for Nigerian artistes.He seems to have taken over the music video production from other video producers here in Nigeria as most of the hot videos topping the chart in recent times are his products.
In a recent interview,Sesan reveals how he shot D'banj's Mr. Endowed Remix.
It wasn't easy at all. The video came out nice but it could have been better because I know what I was supposed to do for that video.
A lot of things went wrong in the planning of that shoot,but I thank God we were able to still achieve something great.I was in L.A a week before the shoot,planning on how to get it done.The video was actually shot in 2 days but it was very hectic.I got the mansion and the green-white-green Phantom that was used in the video.We had fun with Snoop,I mean he loves us,you need to see the behind-the-scene photos where Snoop was dancing to Give it to me,dancing to all the Naija songs we played.
He was supposed to give us 2 hours out of his time but by the time he felt the Naija flavor,the guy gave us about 6 to 8 hours.He was supposed to shoot and leave but he was interested in what we had to do,because the way I was shooting is very different from the way they do it over there.I tried to infuse the African flavor which is what I usually do when I am shooting here,I infuse a lot of European flavor which is why I am different.
The story for that video is,D'Banj is coming to America to break into the market which everybody has seen him doing now.So that's what inspired the green-white-green Phantom and the mansion he was taken to in the video.
I just shot Tiwa Savage 'Love Me Love Me' video,I have worked with 9ice,Eldee,M.I and a whole lot of videos which I didn't put my name on.
I have plan to contribute to Nollywood.A lot of people have approached me.I was offered the job of the Return of Jenifa by Funke Akindele.I had the script in my office for a long time and I had to let Funke know that's not what I want to start with.My first venture is going to be a movie about Nigeria for the international market.I don't want to start with a Nigerian film for Nigerian market.I like to be different.I don't want to go into Nollywood and start doing what everybody is doing.