MDCN TO GO TOUGH ON DOCTORS OVER CME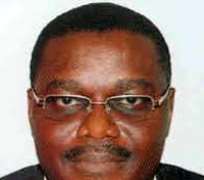 •Chukwu
With effect from January 2012, any doctor who fails to update his skill alongside modern trend in medicine will no longer be license to practice in the country.
The Chairman Continuing Medical Education Committee, Guild of Medical Directors, Dr Festus Odunayo Oshoba who disclosed this in Lagos explained that the Medical and Dental Council of Nigeria, MDCN, took the decision in order to ensure the safety of Nigerian patients as well as ensure that doctors practicing in Nigeria would measure up to their counterparts elsewhere in the world.
Oshoba regretted that most Nigerian doctors who qualified as medical doctors many years ago have failed to update their skills in line with advancement in medical practice.
According to him, all practicing medical doctors in Nigeria are required to update their skills according to their specialties for their licences to be renewed as from next year.
His words: 'It is now compulsory for all doctors to have up to 20 points of Continuing Medical Education on a yearly basis before their licenses could be renewed. This, they could get from attending seminars, workshops. We are doing this to ensure that our doctors are up to date with what is obtainable in other developed world.
He further advised patients to always demand for the current licenses of their doctors before treatment.
Corroborating his views, The Lagos State Chairman of Guild of Medical Directors, GMD, Dr. Toyin Oredugba, said this decision became necessary following the Guilds intention to go into medical research to ensure that Nigeria is at par with other countries of the world.
Oredugba further called on the Federal Government to make the National Health Insurance Scheme compulsory for all Nigerians as part of strategies to ensure the survival of the scheme.
According to him, any employer of five people should buy into the scheme. Appealing to Nigerians to exercise little patience with the scheme, he said, it is only when it is made compulsory that we would be able to know whether it is working or not.