Delta House Uncovers 250 Ghost Worker That Milked State More Than N1B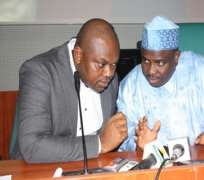 ASABA, December 19, (THEWILL) – A biometrics software installed by the Delta State Speaker to monitor staff attendance and productivity has unmasked the identity of at least 250 ghost workers that have received monthly salaries since 1991 when the state was created, costing the state more than N2 billion naira in 20 years.
Rt. Honourable Victor Onyekachi Ochei, who was elected Speaker in June this year, made the revelation in a press briefing with correspondents in Asaba Monday morning. He said the ghost workers have been 'flushed out of the State Assembly's payroll.'
"As at June, when I was elected Speaker, the House had about 600 staff, but with 600 staff in this complex, this place would naturally vibrate. We then realized that most of these staff live as far as Lagos State and their colleagues daily sign the attendance register for them and at the end of the month, the state government pays their salaries into their accounts which they would simply go and withdraw from wherever they are with their ATM card.
"So we decided to introduce the biometrics in the sense that they not just only sign the attendance register, they will also have their thumbprint on it. With this system, we were able to realize that only about 350 staffers come to work daily.
"We are yet to compute the sum the state would have lost in the process because the final report of our investigations was only submitted to me last week, but even when you do the mathematics at the minimum wage of N18, 000 and multiply it by 250, you would have an idea of how much we have ploughed into the racket," Ochei told journalists.
THEWILL correspondent's conservative estimate puts the sum lost at above N1 billion in over 20 years at an average of N54 million annually.
While assuring that the House would continue to protect the interest of Deltans, the Speaker said it was criminal for some people to stay in Lagos State and be receiving monthly paychecks from Delta State's treasury without doing any work.
"This is not a socialist state but a state where you put in something and get something," he stated.
He said elected members of the House under his leadership would continue to adopt the best tools available as it continues to revamp the legislature in the state in order to be responsive and proactive to the needs of the various constituencies that they represent.
While thanking journalists and wishing them the best of the Christmas holiday, the Speaker assured Deltans that the House would pass the N383 billion 2012 budget appropriation before the lawmakers adjourn for the Christmas holiday so that the executive arm of government can hit the ground running from the first week of January 2012 at resumption for the new year.