Information Minister Berates Nollywood Over Nigeria's Image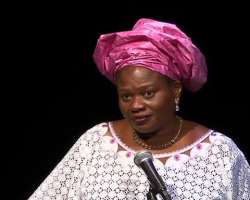 The Minister for Information and Communications, Professor Dora Akunyili, has blamed the greater cause of the bad image that Nigerians have in the Diaspora on the negative pictures painted of the nation in Nollywood movies which have led to Nigerians being treated like criminals.
Akunyili made this disclosure at an interactive session with journalists put together by the office of the Secretary to the Government of the Federation in collaboration, with DEL-York International Incorporation, partners of the New York Film Academy, yesterday.
In her words: "We need the international community to increasingly alter its unwholesome impression and treatment of Nigerians and never shall we be treated like criminals again by asking us to step aside at airports for interrogation as if we are all criminals."
The minister added, "We need the world to see and perceive Nigeria as the bastion of global African renaissance, which is what we are and we need well researched stories about our past and present in reels of pictures that raise the esteem of the Nigerian presence anywhere and everywhere in the world.
"Enough of all these ritual, 419 stories as they portray Nigerians as they portray us wrongly outside the shores of the country.There are better stories like the Liberian war that we played a significant role and those like South Africa that we helped to chase away colonial masters."
She, however, promised the organisers of the film academy scheduled for February next year government support to achieve good quality films in the Nigerian film industry.
A Nigerian actress ,one of the co-ordinators of the Del York project, Ms Stephanie Okereke said, "the film academy is designed for all Nigerians that have the primary ability to grasp.Our brothers that once embraced guns in the Niger Delta can shoot with cameras rather than using guns."
Story by http://nollywoodgists.com