JONATHAN BETRAYED SYLVA -ACTIVIST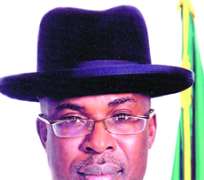 • Sylva
He is an activist who cut his teeth as President of the Students Union Government at the University of Port Harcourt. As a graduate of History, Comrade Marlin Daniel is not one who readily forgets.
He is not happy about the current political crisis in his home state Bayelsa and has come out to speak out against what he refers to as 'injustice' being meted out to current Bayelsa State governor, Timpre Sylva.
Daniel who served as Special Senior Assistant to Goodluck Jonathan when he was governor, in this interview, speaks on various issues.
Excerpts…
As a PDP member and stakeholder, how would you appraise the current going - on in Bayelsa State vis-a-vis Gov Timipre Sylva/PDP imbroglio?
It is quite pathetic. What is happening in Bayelsa State, in my opinion is an aberration. People that have benefited from the government of Sylva, people I consider as stumbling blocks to the development of the state, are the people that are turning back to stab him at the back, not necessarily because they really care for the welfare of the Bayelsa people but because of selfish interests.
Could you let Nigerians know the group of people you are referring to?
When I say people, I am essentially referring to the Green movement, President Goodluck Jonathan's Political structure. They are doing what they ought not to have done because they benefited more from Governor Timipre Sylva's government than even those originally in his group, the Covenant Movement.
For the uninitiated, Governor Sylva's problem started since 2007 when a replacement was being sought for Jonathan who had then been picked as the late Umar Shehu Yar' Adua's running mate. Sylva had come second during the primaries that confirmed Jonathan as the PDP's gubernatorial candidate in Bayelsa State but his sudden promotion to the position of Yar' Adua's running mate meant that someone amongst the runners - up would fill the void thus created. Jonathan, then as governor had the privilege of picking who should succeed him by the party. He opted for Chief Francis Doukpola, one of the contestants of the primaries who came third.
Meanwhile, persons like Peremobowei Ebebi, and Boladei Igali who were both Deputy Governor and Secretary to State Government (SSG) respectively under Jonathan as Governor also felt they had a right to succeed Jonathan. Now, the April 2007 general elections were getting close and the ensuing confusion over who amongst these people should be the anointed candidate had yet to abate and the PDP needed to do something.
They decided to pick Sylva on the strength of the fact that he was second at the primaries while Ebebi, then the deputy governor was retained as his running mate. To us at the state level of the party, we felt it was a fair decision and thus looked ahead to the campaign proper.
But we were shocked to learn later that the decision did not go down well with Jonathan who insisted on Chief Doukpola. A crisis was brewing and Sylva had no choice but to seek an audience with the then President, Olusegun Obasanjo who played the fatherly role by asking Sylva to beg Jonathan. This, he did with emissaries including Chief G. O. Finte who we were told, prostrated before Jonathan in order for him to forget his animosity towards him and bless his candidature.
Jonathan capitulated but also made his own requests; that Sylva and his people should go and beg a traditional ruler named A. J Turner. Once again, Sylva did as he was told. Turner accepted but gave his conditions; that Sylva must disband his own campaign group, the Covenant Movement and adopt theirs - the Green Movement. Well, Sylva complied. I may never know why he did it. It may have been for political expediency.
It may have been for peace to reign but some of us considered it a political suicide because over 70 per cent of the people in that group formed Sylva's cabinet. So, from day one, Sylva's union with the Green Movement was akin to a romance with strange bed - fellows whose allegiance was only to Jonathan and no - one else. And I must tell you that his disposition for loyalty and the large heart to accommodate these people has in no small way undermined his government.
Take for instance, the atrocities committed by a certain Korepamor Dudafa, one of the members of the Green Movement that was made Commissioner for Local Government. Dudofa apart from the massive scale of fraud committed while he presided over the ministry, was most disloyal and irreverent. He showed no form of respect for Sylva as he felt he only owed allegiance to current President Goodluck Jonathan.
The PDP appears bent on installing Seriake Dickson as their candidate for the Bayelsa State governorship despite Sylva's protests to the contrary. What is your take on what might happen if matters remain unresolved?
Well, the matter is in court. My advice is that the PDP should find a political solution to it. Whatever decision they reach must be in favour of Sylva because he is the aggrieved who took the party to court. They have no reason for his disqualification other than undisclosed personal reasons. If today, you are disqualifying somebody and he asks for the reason, the onus is on you to make public those reasons with very strong facts. Otherwise, it is a nullity as far as everyone is concerned.
I wonder on the choice of Dickson as the one adjudged to have what it takes to succeed Sylva, if it becomes necessary. Now, if the opposition within the PDP now angling for Sylva's removal really had the genuine interests of the Bayelsa people at heart, they would never have opted for Dickson. We had men of stature like Ben Murray Bruce, Boladei Igali, Francis Doukpola and Timi Alaibe who were in the race alongside Dickson but were curiously disqualified on flimsy grounds to make room for their anointed candidate but you would want to know why. Won't you?
But the choice of Dickson for all of us keen watchers of Bayelsa politics is as curious as it is out of place. Do you know that Seriake Dickson as Commissioner for Justice under Goodluck Jonathan as governor was given contract worth N150 million to equip the state library. And I can tell you without equivocation that not one book of the Nigerian constitution was brought into that place. Today, that is the man the party feels is credible enough to come and take over from Sylva. How ridiculous!
Do you know that when the House of Assembly invited Dickson for explanations in respect of that contract, he ran off to Abuja and complained to Jonathan and the President in turn prevailed on Governor Sylva to stop the Assembly from probing the transaction.
Sylva tried his best to obey the president but the Assembly revolted, saying that they were being unduly interfered with. Although pressure on the matter later cooled off, the case was taken to court by the Assembly. Governor Slyva later learnt that the Dickson he was asked to protect has actually told the president that Sylva wanted to probe his tenure as governor of Bayelsa State. To lend credence to my position, a very non - partisan party have petitioned EFCC to probe Dickson on the N150 million library matter.
Now, you see how credibility is being sacrificed on the altar of mediocrity? Is Henry Seriake Dickson even the man PDP should be sticking its neck out for?
Now, I am not saying that even Sylva himself is a saint. If he has done anything that makes him ineligible to be re - nominated as PDP's flag bearer for the Bayelsa governorship elections, then they should make it known so that they deflate or assuage the ill - feelings being presently nursed by sections of the populace who feel that some powerful persons particularly President Jonathan are behind his current travails. That is my position.
Do you agree with insinuations in certain quarters that Jonathan is directly instigating the crisis in Bayelsa State?
Yes. Otherwise, what is happening in Bayelsa State would not be happening. From my earlier analysis and the brazen lawlessness of those in the opposition and the illegality perpetrated in PDP's nomination of Henry Seriake Dickson even when a court order forbade it, it is absolutely clear that the President has more than a passing interest in the affairs of the state. If that is so, then I am hugely disappointed. Because Jonathan is directly biting the finger that fed him.
Without mincing words, I am saying that the president is perpetrating the biggest act of betrayal ever witnessed by masterminding this crisis in Bayelsa State. I am, as a result of this unfairness, therefore constrained to let Nigerians know a few things that even Jonathan may have forgotten. Yes, you may not know it, but it is because of Timipre Slyva that Jonathan can today call himself a president. It is because of Sylva that he is enjoying the spoils of office - fame, wealth and world wide acclaim. Without Sylva who fought doggedly, Jonathan would probably have remained in obscurity - an unfulfilled lecturer.
Let me tell you the story. When D.S.P Alamieseigha emerged as the PDP governorship candidate in Bayelsa state months before the 1999 general elections, his running mate was Hon Claudius Inengese, a former speaker of the old Rivers State House of Assembly. The reason he was eventually dropped was because the staunch PDP members who worked tirelessly for the progress of the party thought he was a rank outsider and would not be loyal to the party. The protests were so much that he was rejected and another candidate sought to replace him.
But he was honoured with the task of producing the person he felt was capable to replace him. To the surprise of everybody, he brought Goodluck Jonathan, a lecturer - someone who had never walked the treacherous political path, to replace him.
But problems started for Jonathan early when the late Chief Melford Okilo, the acclaimed father of Bayelsa politics challenged the choice of Jonathan, saying that his position as former governor of the old Rivers State and as a foremost politician in the state conferred on him the right to produce a candidate for the coveted deputy - governor's office.
He was therefore allowed to bring his candidate while Jonathan was asked to write a withdrawal letter to that effect. Jonathan did without even a moment's hesitation. Chief Rufus Enatimi - Spiff was Okilo's choice for the Ogbia people. The matter was left like that until Timipre Sylva heard and a fresh round of protests began. He argued that since Okilo's choice, Rufus Enatimi - Spiff was not originally a member of the PDP, it would be wrong for him to gate crash to such an enviable position without paying his dues in the party.
So, he mobilized men and women at his personal expense to seek a redress at the party's NEC office in Abuja during their final screening exercise before the 1999 general elections. After listening to Sylva and his group's protests and arguments, the party at the national level decided to re - instate Jonathan and drop Spiff. That was how he (Jonathan) ended up becoming the deputy - governor under the Alamieseigha's candidacy. The rest, they say, is history.
I have taken time to make this revelation today not because I stand to gain anything from Sylva but to set records straight. And that is not the only time Sylva helped Jonathan. It is a well known fact that Jonathan took a loan running into billions of Naira as governor that Sylva had the unsavoury burden to pay off. Those who know Bayelsa very well would attest to the fact that it was the repayment of that loan that greatly stalled Sylva's speedy take off in 2007. Today, that loan has been paid. And but for Sylva, the big militancy crisis that erupted in the Niger - Delta shortly after he took power would never today have been a thing of the past.