PICKING ISSUES IN JONATHAN'S TRANSFORMATION BUDGET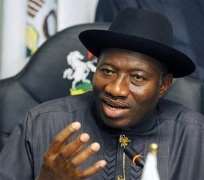 President Goodluck Jonathan has submitted Appropriation Bill to lawmakers. Nigerians know the Bill as Annual Budget. The president's eyes and ears in the dome, his Special Adviser on National Assembly Matters, Joy Emordi, gave him close marking that time; she called his attention to the need for him to take a bow. He did, in the appropriate directions on his way into the chamber. There were smiles all around. The annual festival of budget presentation went as planned, a thing that gladdened hearts both in the dome and in the presidential villa. But that was the first lap in a 365 days-long race.
"We are approaching the end of a peculiar fiscal year for our nation," the president had said in his budget speech. "The 2011 Elections, the subsequent inauguration of a new Administration last May and the passage of the 2011 Amendment Budget in May 2011 all affected the implementation of the budget in 2011," he added and stopped, coming short of emphasising what his citizens already knew – poor, low budget implementation. He jumped quickly to something more palatable however: "Provisional data on the implementation of the 2011 Budget as at October 2011 indicate that revenue performance improved during the year over the situation in 2010." And he had more good news: "Oil revenue receipts achieved the targeted levels as a result of relatively higher oil prices and production levels than benchmarked while non-oil receipts, though short of the projection for the period, are tending towards the set targets for 2011."
What the president would not hammer on his lawmakers did though, and the Speaker of the House of Representatives was the first to let loose the sling in his post budget presentation remarks. "We hope that this time around, we shall break the jinx of low budget implementation. The truth is there is no better signal that a government is alive to its responsibility than through its strict adherence to its own budget proposal." And Honourable Speaker Aminu Tambuwal was not alone on that occasion. The distinguished senate president made it known he was in the market, too. "Over the years, we have listened to very beautiful and impressive budget speeches eloquently delivered in this chamber. Unfortunately, the implementation has not matched the words," David Mark said. And he had a sermon: "Let this budget be the one that will say let there be light, and there is light; let there be roads and there are roads; let there be water, and there is water; let there be employment and there is employment; let there be medi-care and it is so; and let there be food and there is food."
Paying lip service to budget implementation is perennial here. Yet it is by the execution of budgets that a serious government is known. If it doesn't, it breaks laws. Many of the provisions of this legal document that is the Appropriation Bill have been broken over the years, but no one paid for it. Promises of improving processes in governance have been made on several occasions also; they are not seen through. Should it be recalled, for instance, that President Jonathan acknowledged the public complaints which trailed the process that threw up national honourees in 2010? He did in the course of conferring the honours. And those were legitimate complaints. People who subverted due process in the award of contracts while they were in the dome, and were made to leave office as a result got the ribbon and the medal at that ceremony. The president had promised an overhaul of the process then. Now he repeated the same public concern about how this year's honourees emerged, and he had made another promise. And to think the president didn't even have enough ribbons and medals to hang on the necks of men and women invited. Those who are the brain box of Nigeria said the number of honourees this year was large - less than four hundred of them - and as such ribbons with medals that would go round were too large a consignment to procure on time for the D-Day. Equally, in 2010, the president made certain observations concerning the unimpressive level of implementation of the budget for the previous year, with a promise to improve. He may yet return to make the same promise in December 2012?
Why are each year's budget proposals not fully implemented? Politicians in charge of the tills don't appreciate the link between effective budget implementation and national development. That is one, even though they mouth reduction of poverty, lowering inflation and bringing scandalous unemployment rate to single digit. That, in a system where those who should, do not know how many of their citizens are gainfully employed, and how many are not. As for asking if there is effective staffing which ensures the right manpower is in place with good knowledge of the protocol that budgeting involves - planning, monitoring, and effective recurrent and capital expenditure implementation – it will amount to stretching the matter too far. That is the case in a situation where not many in Ministries, Parastatal and Agencies seem to do more than sit down to allocate figure in a year's budget based simply on previous years' figures. And lawmakers, too, pass budgets with little worry about monitoring to ensure substantial compliance. The blame goes in every direction.
In any clime, there are challenges to effective budget implementation, of course. Here, man-made problems are rampant, and lack of political will to implement this legal document to its letters are factors. And no one seems to be taking clear steps to stop funds that find its way into private pockets in the course of budget implementation. That is a long-standing culture. One should guess the president knows that a substantial amount of each year's budget goes down the drain this way. The few politicians who have been identified for taking unlawful loans, expending funds outside budget provisions appear unlikely to pay for their crimes. Yet the president has anchored the budget on his Transformation agenda. If there is any transformation that is needed in the implementation of a budget meant to address the many ills that plague the country, it will be in improving effective monitoring and evaluation of projects on a stage by stage basis. As it is, ordinary citizens have little knowledge, little ability to gain that knowledge of whether the resources allocated for projects are actually expended or not. But the Jonathan administration does not need Nigerians to give it 'close marking' on how well it implements budget from now till the end of this term. If the president wants to leave any mark that he ever walked this path, it will serve him well to pay attention to little foxes such as corruption, which could tear to pieces the soul of a budget that he promised Nigerians would transform their country.
** Tunji Ajibade is a Communications Consultant. [email protected]
Disclaimer:

"The views/contents expressed in this article are the sole responsibility of

thewillnigeria.com

and do not necessarily reflect those of The Nigerian Voice. The Nigerian Voice will not be responsible or liable for any inaccurate or incorrect statements contained in this article."
Articles by thewillnigeria.com