FASHOLA COMMISSIONS N16BN SHOPPING MALL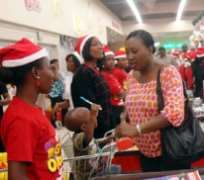 By MONSUR OLOWOOPEJO
IKEJA- Governor Babatunde Fashola of Lagos State, yesterday, commissioned the N16 billion ($100 million) Ikeja City Mall, at Alausa, Ikeja, which was constructed to offer an array of retail services to residents of Lagos.
At the inauguration of the 27,000 square metres mall, Fashola said the investment was a clear indication of the increasing diversification of the state's economy, adding that it will catalyse job creation in the state.
Vanguard gathered that the mall has recruited over 300 persons on the first day of its operation.
He stated that the establishment of the shopping mall will expose the fallacy in the argument that Lagos State was losing business investors.
Shopping after the commissioning of the Ikeja City Mall.
Fashola said: 'The investment shows the inability of critics to critically analyse the increasing diversification of Lagos economy.'
The governor noted that the number of few small businesses that are pening and expanding their outlets was a measure of real growth in the state's economy.
He said:  'Every time you see a mall opening; it is a positive sign for that economy. It speaks to an increasing demand for outlet spaces for small business like eateries, salons, grocery shops, cell phone and IT outlet, stores, jewellers, ice cream, pop corn and entertainment outlets which are the things we will see in this mall of 94 outlets.'
On choice of Alausa as its location, Fashola said it was to re-distribute traffic away from the Lekki Mall and re-energise the Ikeja Central Business District, CBD and its environs.
The governor added  that 'it will reduce unidirectional traffic flow Lagosians experience on daily basis.
He expressed delight with the investment, saying 'during the construction of this mall, over 1000 people were employed directly. And very soon, new set of employees will also be absorbed in the mall as it commences its operation today.'
Speaking earlier, the Director Real Estate Actis, Michael Chu'di Ejekam, said the company decided to locate the mall in Ikeja because it was demographically and strategically good for the mall.
He added that the mall had 94 retail outlets and a parking lot that that could accommodate about 250 cars.